Best Canyonlands National Park Photography Locations to Create Great Pictures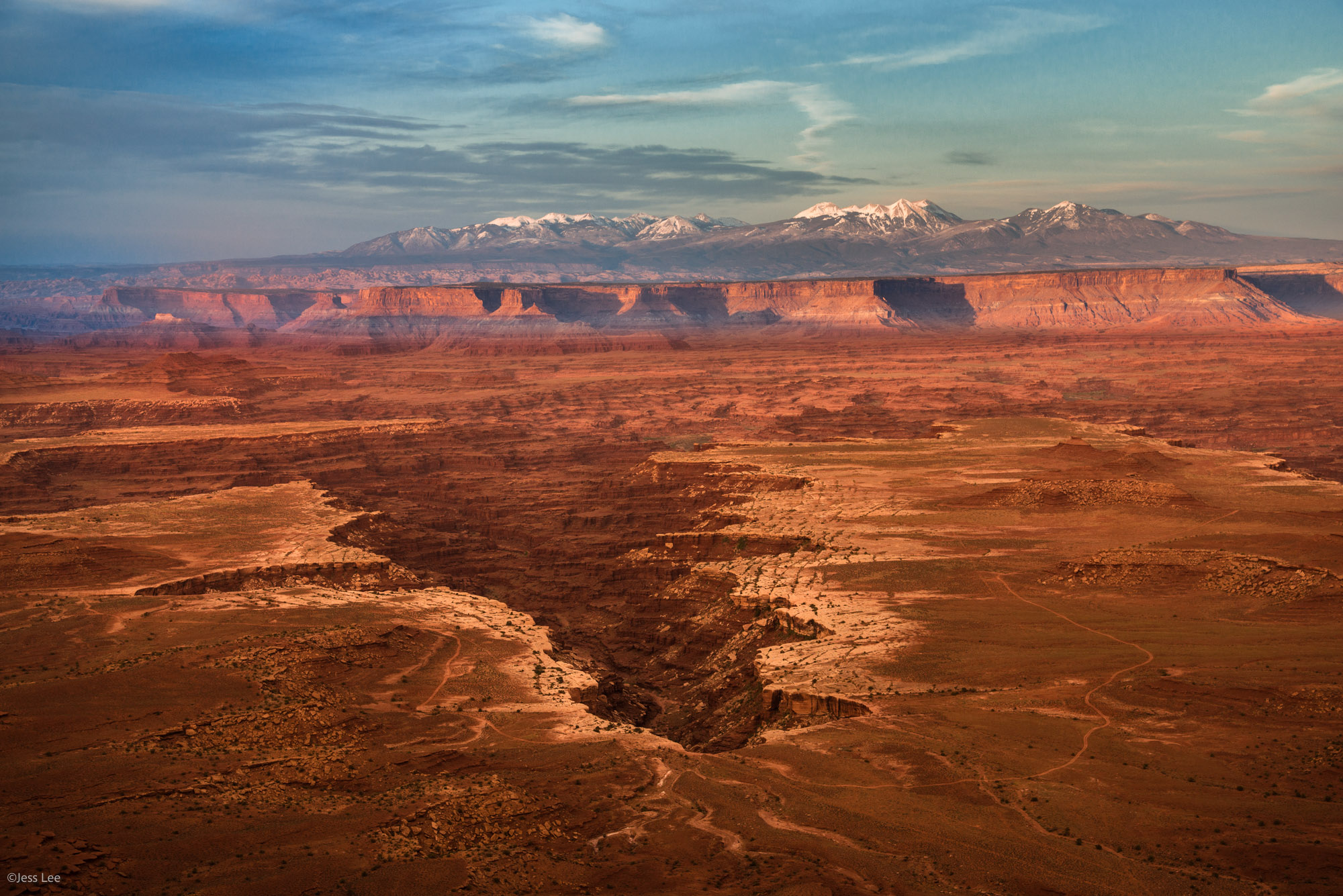 Where to create great pictures in Canyonlands National Park


Canyonlands National Park, located in southeastern Utah, is a treasure trove of geological wonders and majestic landscapes. This sprawling 337,598-acre park is divided into four districts: Island in the Sky, The Needles, The Maze, and the rivers themselves. It offers a variety of unique photography opportunities from majestic overlooks, winding rivers, towering rock spires, and deep canyons. The following is a quick guide to help you capture the beauty of Canyonlands through your lens.

The Districts

Island in the Sky: This is the most accessible district, making it a favorite among photographers. It offers stunning panoramic views from high elevation overlooks, and it's the ideal location for sunrise and sunset shots. Notable spots include Mesa Arch, Grand View Point, and Green River Overlook.

The Needles: Named for the colorful sandstone spires that dominate the area, this district provides a more intimate and adventurous photography experience. The Chesler Park area and the Joint Trail are must-visits.

The Maze: This is the least accessible district due to its remote location and difficult roads, but it is perfect for photographers seeking solitude and untouched landscapes. However, navigating The Maze requires a high-clearance 4WD vehicle and advanced planning.

Rivers: The Green and Colorado rivers slice through the heart of Canyonlands, offering unique perspectives of the park. However, capturing these views often involves multi-day rafting trips or strenuous hikes.

Photographing Canyonlands National Park

1. Time of Day and Lighting:

Sunrise and sunset are magical times in Canyonlands. The soft, golden light during these hours adds warmth and depth to your shots. The sunrises at Mesa Arch in the Island in the Sky district are legendary, while sunsets at Grand View Point are breathtaking.

Night photography is also popular due to the park's remote location and dark skies, which are perfect for capturing the Milky Way.

2. Composition and Perspective:

Try to include interesting foreground elements in your landscape shots. This can help to create depth and draw the viewer's eye into the image. It could be a rock formation, a blooming desert flower, or a twisted juniper tree.

Different perspectives can also add variety to your shots. Don't be afraid to play with wide-angle shots, panoramas, or close-up details.

3. Weather and Seasons:

Weather can dramatically change the mood of your photographs. Storm clouds gathering over the canyons can create a dramatic scene, while a light dusting of snow can transform the park into a winter wonderland.

Spring and fall are the best times to visit for milder weather. In spring, you might also catch desert wildflowers in bloom.

4. Equipment:

A sturdy tripod is essential, especially for sunrise, sunset, and night shots. A variety of lenses can also be useful. Wide-angle lenses are great for capturing expansive landscapes, while a telephoto lens can be used to zoom in on distant details.

5. Safety and Ethics:

Before you go be sure to check the local conditions on the Canyonlands National Park website and the current weather forecast
Always respect the park rules to protect both the environment and your safety. Stay on designated trails, don't disturb the wildlife, and leave no trace.

Remember, safety should always be your priority. Always carry enough water, wear appropriate clothing, and inform someone of your plans before heading out, especially when venturing into the more remote districts.


Photographing Canyonlands National Park is an adventure that offers endless possibilities. The park's diverse landscapes provide many opportunities for photographers of all levels. With careful planning, respect for the environment, and an eye for composition, you can capture images that truly do justice to the wild, remote beauty of Canyonlands National Park.