The Best Badlands National Park Photography Sites | Favorite locations to make awesome pictures.

Badlands National Park, located in the heart of South Dakota, is an enchanting landscape of rugged beauty and dramatic geological formations. The park, known for its striking layers of sedimentary rocks, vast prairies, and a rich array of wildlife, offers boundless photography opportunities. This blog post will guide you through the best locations to photograph and make exceptional pictures in Badlands National Park.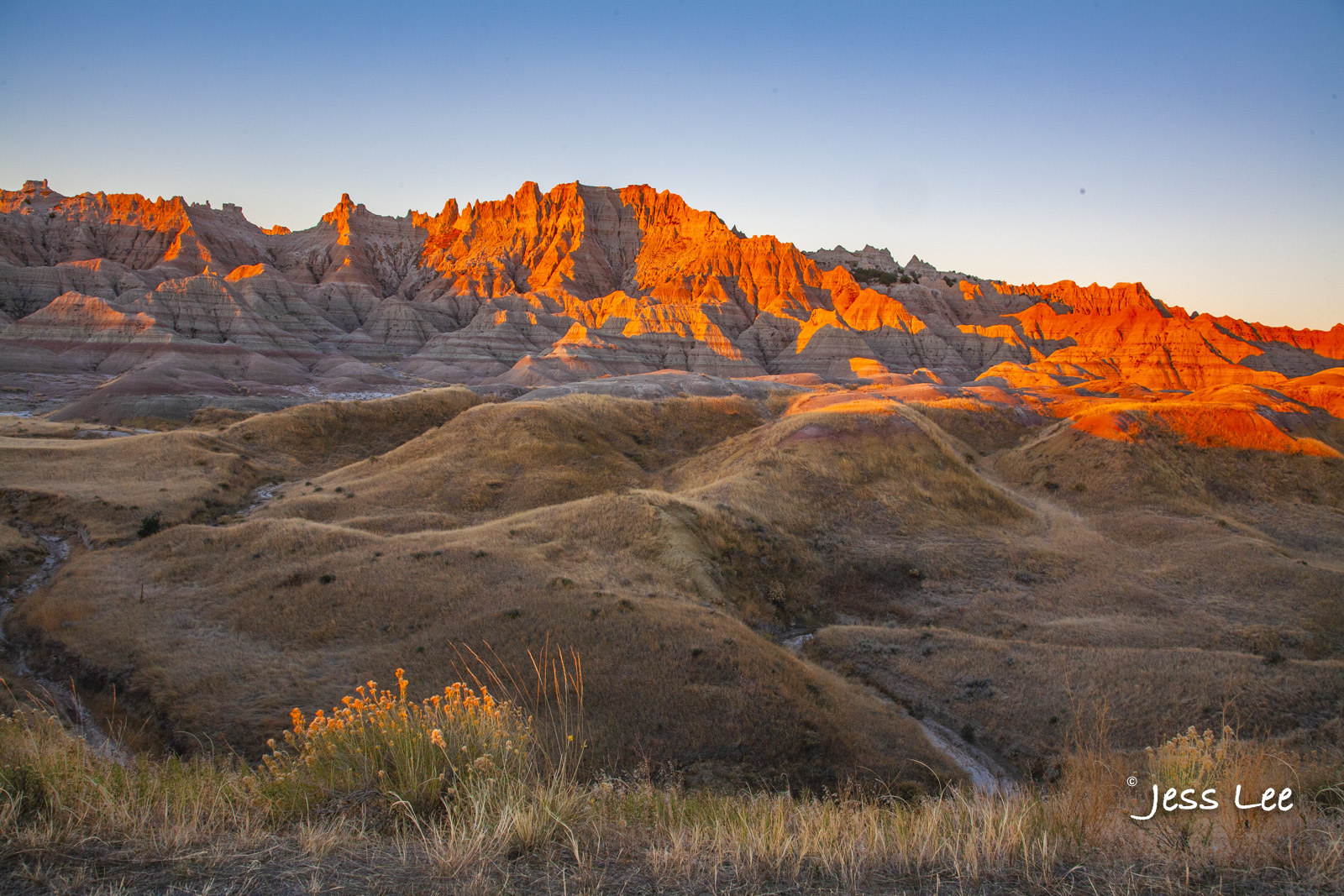 1. Pinnacles Overlook

Situated along the Badlands Loop Road, Pinnacles Overlook is one of the park's most popular photography locations. It provides a commanding view of the unique geological formations that give the park its name. This is an excellent spot for capturing the enchanting hues of sunrise or sunset as they illuminate the rugged badlands.

2. Yellow Mounds Overlook

The Yellow Mounds Overlook presents a stunningly colorful palette for photographers. The bright yellow and red sedimentary layers offer a stark contrast against the blue sky, particularly during the golden hours. This location gives photographers the chance to focus on the intricate textures and colors of the park's fascinating geology.

3. Door and Window Trails

The Door and Window Trails offer a more intimate exploration of the Badlands' unique geological features. The Door Trail leads you to an overlook with a vast view of the rugged terrain, while the Window Trail provides a natural "window" framing a stunning scene of the eroded badlands. Both trails offer incredible compositions for photographers.

4. Castle Trail

As the longest trail in the park, Castle Trail presents an array of photography opportunities. From vast prairie landscapes to close-ups of eroded pinnacles and spires, this trail lets you capture the diversity of Badlands National Park. Keep an eye out for wildlife along the way, including bison, pronghorns, and bighorn sheep.

5. Notch Trail

For the adventurous photographer, the Notch Trail offers a rewarding challenge. This trail includes a log ladder climb and a path along a ledge, leading to an overlook with a spectacular view of the White River Valley. This location allows for exceptional landscape photos that encapsulate the surreal beauty of the park.

6. Sage Creek Wilderness Area

The Sage Creek Wilderness Area is a haven for wildlife photography. This region of the park is home to one of the largest prairie dog towns, along with a roaming herd of bison. Photographing these native species in their natural habitat, against the backdrop of the badlands, can yield captivating images.


Badlands National Park provides a unique and dramatic landscape for photographers to explore. Its otherworldly terrain, rich colors, and abundant wildlife make it a remarkable location for creating stunning pictures. Whether you're an experienced photographer or a beginner, this guide will help you discover the best spots to capture the unique allure of Badlands National Park.