Two professional photographers captured IU Southeast's attention at the Ogle Center
Jess Lee and Tamara Gooch spoke about equine, wildlife and landscape photography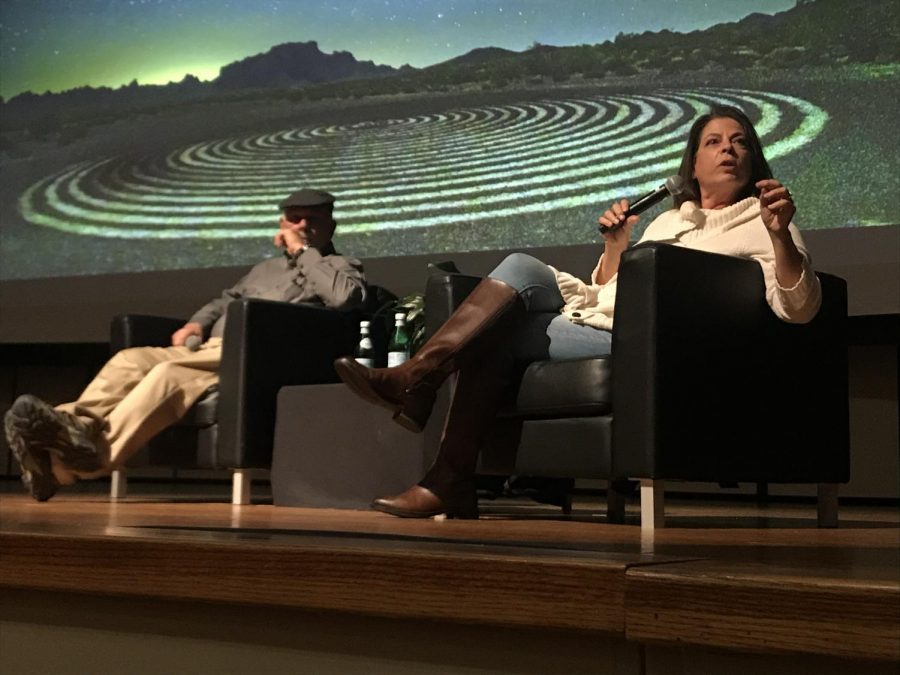 Sydney Randall, Staff Reporter
October 29, 2019

Renowned professional photographers Jess Lee and Tamara Gooch came to IU Southeast to speak about their experiences and share the beauty of nature and wildlife within their images at the Ogle Center Thursday, Oct. 24.
The event is part of the 11th annual Louisville Photo Biennial, which is a photography festival that takes place in Metro Louisville, southern Indiana and central Kentucky from Sept. 20, 2019 to Nov. 10, 2019.
IUS Chancellor Ray Wallace introduced Lee and Gooch.
"We are so fortunate to be able to bring two of the finest photographers in America today as part of the Louisville Photo Biennial," Wallace said. "I am just so excited that you will see some startlingly beautiful images."
Wallace also thanked Paul Paletti, one of the participants and sponsors of the Louisville Photo Biennial.
"There would not be a Louisville Photo Biennial if it were not for Paul Paletti," Wallace said.
After Wallace's remarks, Gooch made her way to the stage.
Tamara Gooch
Gooch began with some background about herself.
"I'm going to introduce you to my crazy world of equine photography," she said. "I was introduced to horses before I can even really remember."
Gooch said she had a late start in the world of photography.
"I didn't come into photography until later in my life when I was in college," she said. "When I did eventually, these two passions of mine, horses and photography, combined into one and this is where I knew I had to be."
She then spoke about her first experience into the world of photography.
"My first experience was with the wild horse," she said. "I was around domesticated horses for most of my life, but going out onto the range and experiencing the horses in their natural habitat is such a different dynamic."
Gooch then showed pictures of stallions that included moments of conflict and moments of unity between the horses. She also explained what she looks for when she takes equine pictures.
"I want emotion there," she said. "I want to capture a little bit of their spirit."
She took a moment to explain why she loves taking pictures of wild horses more than domesticated horses.
"What I like the most about being with a wild horse is just being out on the open range. It's a peaceful kind of feeling," she said. "It's tranquil."
Gooch said she has learned a lot from the horses over the years.
"They're incredible teachers," she said.
She then shared the impact that taking pictures of wild horses has had on taking pictures of domesticated horses.
"Because of wild horses, when I go out with domesticated horses I always find myself trying to put them in something natural," she said. "My favorite place to do that is in the Pacific Northwest. One place in particular is Washington state."
She then discussed several commissions she had done for different stallion owners around the country. She also talked about what she looks for when she takes equine pictures for commissions.
"I look for some sort of presence," she said. "I'm always looking for a presence, something that shows me what the animal is feeling and how it's reacting."

Near the end of her presentation, Gooch reflected on her photography career and how much she loves what she does.
"I don't think I'll ever get tired of taking pictures of horses," she said.
Gooch then ended her presentation with one simple sentence.
"I hope this gives you a little appreciation of the animal that I love so much," she said.
Jess Lee
Lee took the stage after Gooch.
"I want to take you on a little trip through my year and show you some of the things that I do," Lee said.
Lee explained that he grew up in the foothills of the Sierra Nevada in California. He said the mountains shaped many of his desires and interests in nature and wildlife more than he knew as a child.
To start his photo tour, Lee discussed the topic of landscape photography while sharing a story about an interesting photo of the sky he took.
"The clouds started to turn red while I was taking the picture and then I realized later that it was the moon coming up," he said. "It lit up the sky just like a sunset would, except the moon was looking down over the horizon instead of the sun."
Lee then moved into the topic of wildlife photography and told a touching story about a young bison that had been hit by a truck while he was taking pictures at Yellowstone National Park.
"Twelve bison walked out of the woods and surrounded the young bison. Each one of them turned, walked up to the young bison and pawed it and licked it before walking back into the woods," he said. "I changed my opinion of bison after that."
Lee shared that he also takes pictures of wild horses and cowboys as well.
"My age group in particular grew up with all the cowboy movies," he said. "I like taking pictures of cowboys and horses because they work pretty hard, do what needs to be done and somehow get through it all."
Lee then spoke about how he felt while taking pictures of animals that were then featured on the cover of National Geographic.
"It's one of those times where you question your sanity," Lee said. "You wonder who's hunting who. You have a camera and they have big teeth and claws."
To finish his presentation, Lee said he goes to Norway during the winter to capture pictures of the Northern Lights.
"The Northern Lights can be so captivating that sometimes you look up and the whole sky is filled with it and you forget to take a picture," he said. "You just look at it in awe."
The Louisville Photo Biennial continues through Nov. 10. There are 64 locations around the Metro Louisville, southern Indiana and central Kentucky areas that feature art exhibits.