Welcome to Yellowstone-Teton Fall Workshop

Priceless!
Now Booking Sept 23-29 2023
To See the Full Galleries of Grand Teton Photography Prints, check here and here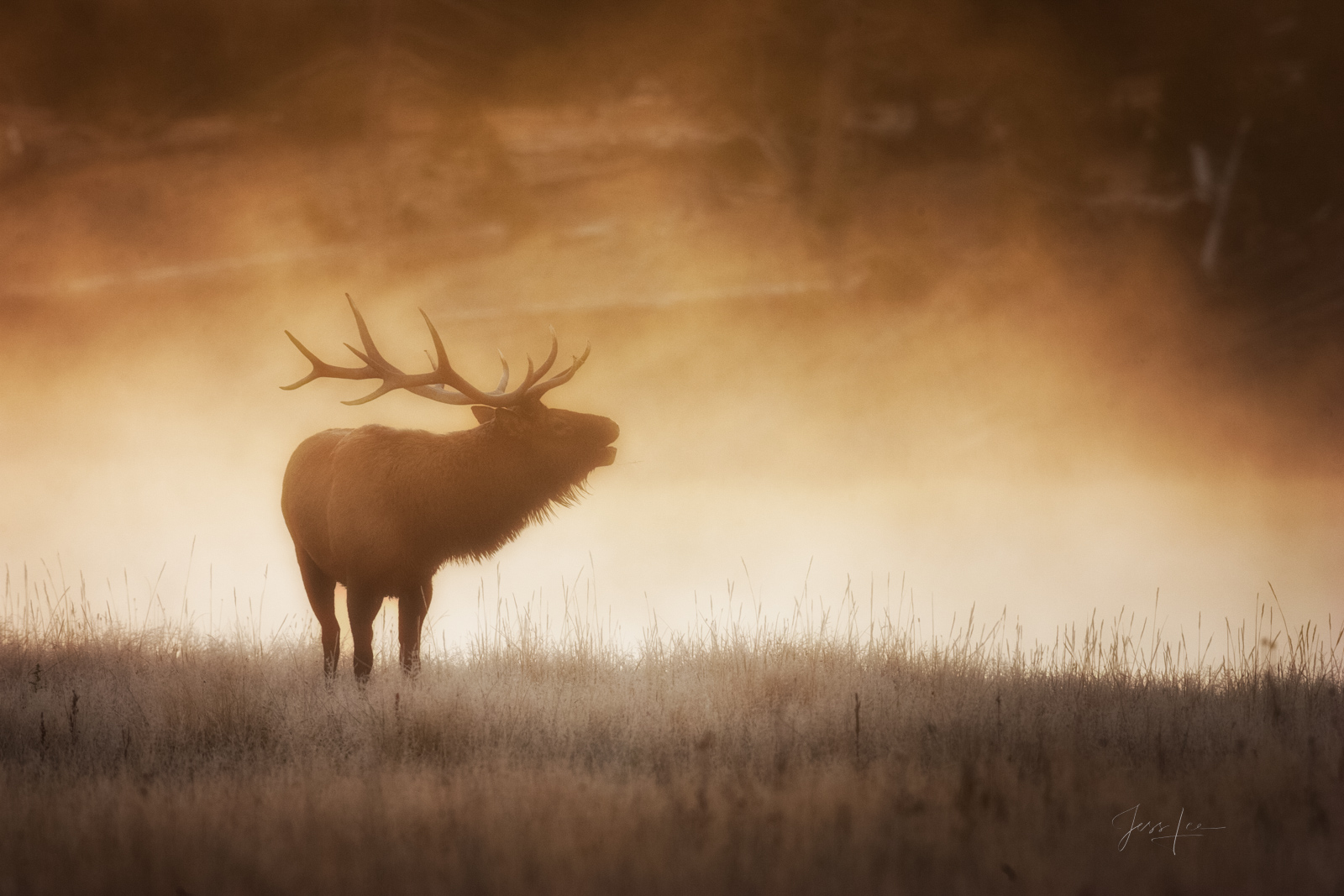 Join me for this Autumn Yellowstone Teton Instructional Photo Tour. Autumn is an incredibly special time in Yellowstone, Jackson Hole and the Tetons. It is the perfect time for the explosion of autumn color. The aspens will be turning, the air crisp and there usually is fresh snow on the mountains. The Teton's are one of the worlds most dramatic mountain ranges and we will show you the best locations and how to capture images of the stunning land called Jackson Hole. In Yellowstone, the brisk autumn mornings will bring a rush of activity by the abundant wildlife and a sense of mystery brought by the steam of the geyser basins. Here we will take time to learn new techniques to improve your photography.To see Photography taken during past workshops check here.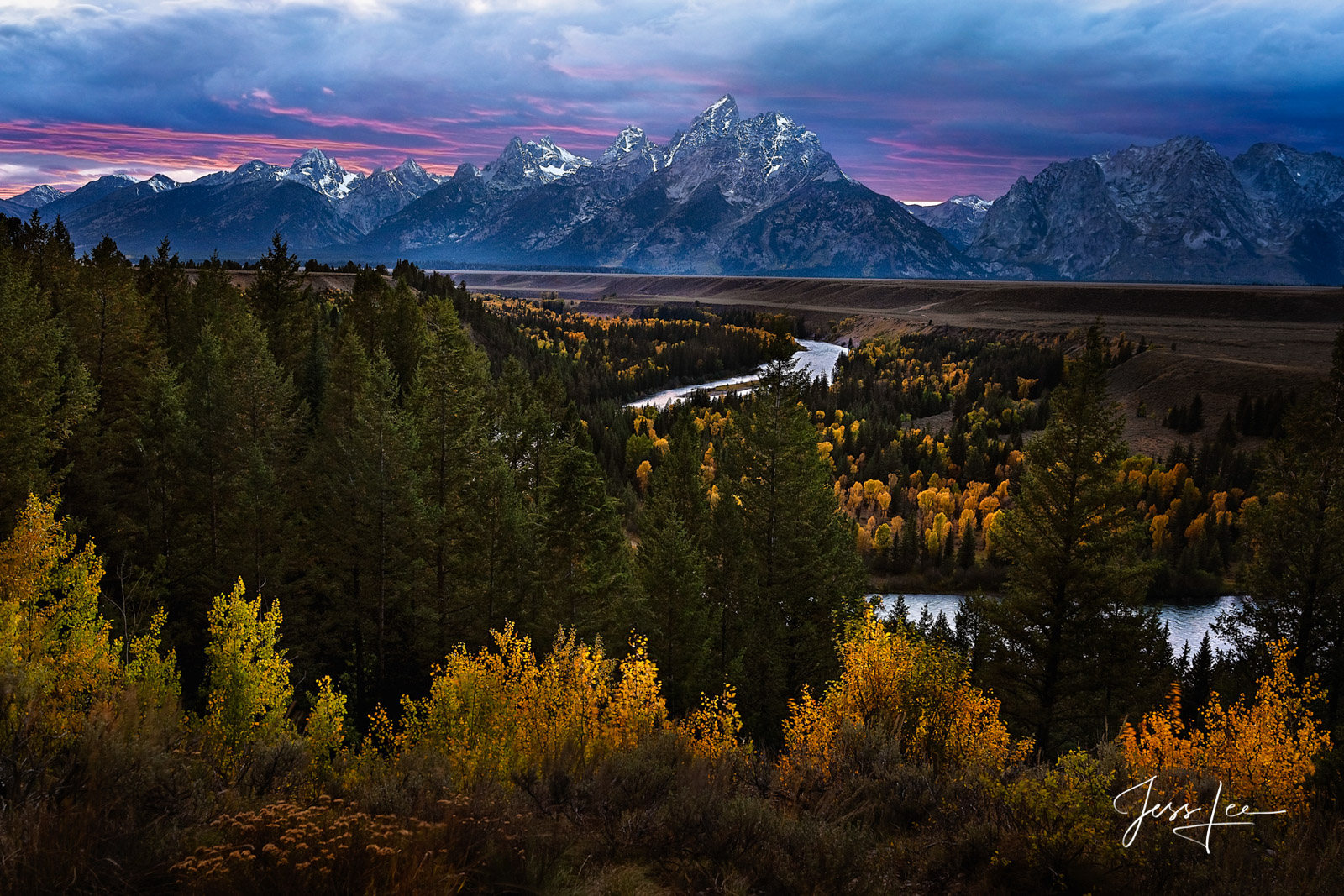 There will be a maximum of 6 students. Instruction will be by Jess Lee professional photographer whose work has appeared in hundreds of publications worldwide. Including covers on National Geographic Magazine, National Wildlife, Defenders of Wildlife to drop a few names. We take a hands on approach and have you learn in the field while photographing great subjects. We will be there to instruct as you work on composition, proper exposure for unique lighting situations, and the use of depth of field to make creative decisions when you create an image. We will show you how to capture images in the camera with good technique which ultimately results in less time spent in the computer post processing. Of course, we all want to be able to create a unique vision and show in our work the feeling we had in the moment of capture. This is best done with the mastery of various image processing programs. While we will not have the vast amount of time it takes to be proficient at all phases of image processing, we will have time to explore the possibilities of using Lightroom, Photoshop and Luminosity Masking during image review sessions.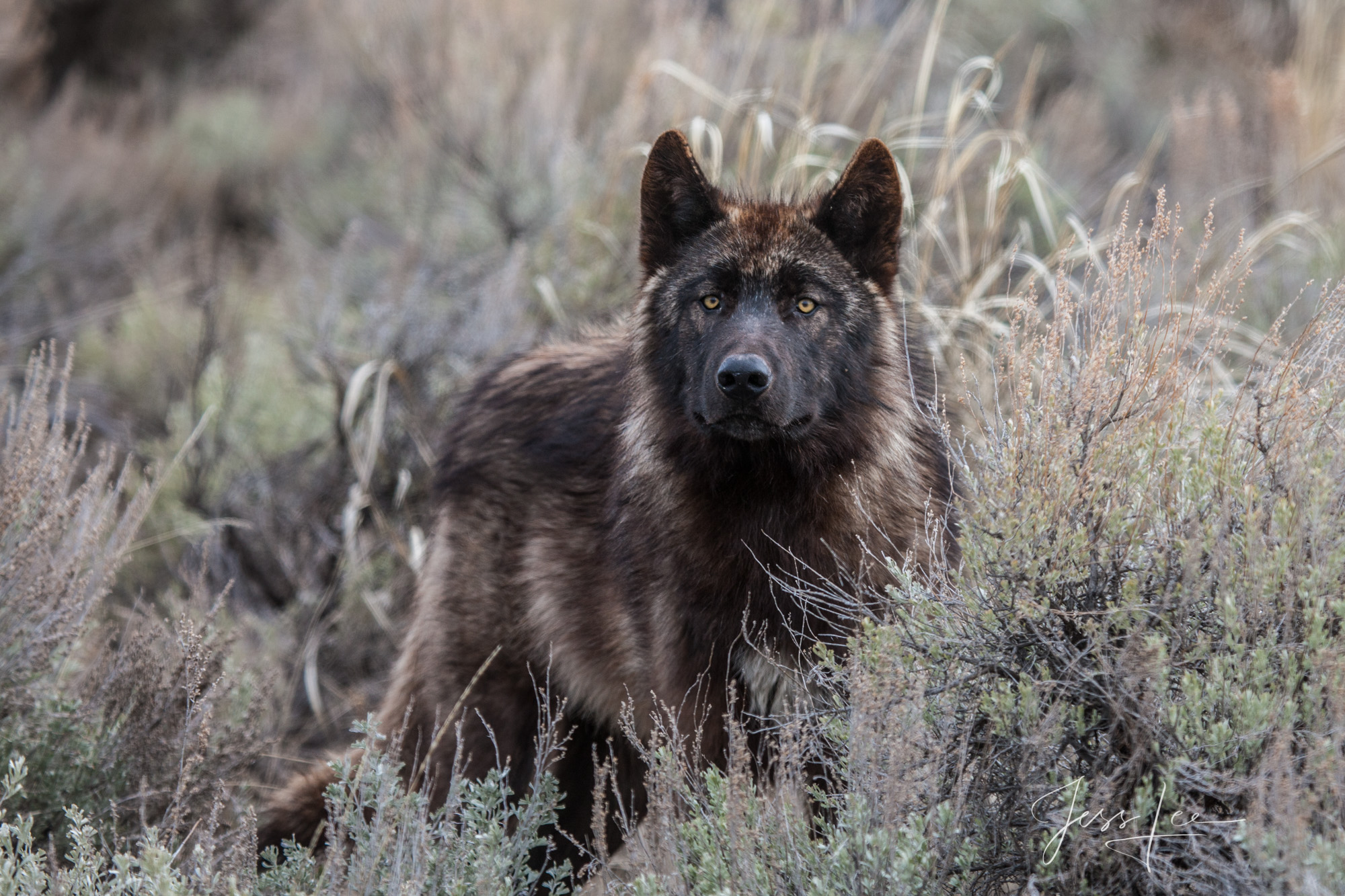 Along with the great scenery and the abundant wildlife of Yellowstone and Grand Teton National Parks, we want to hone your skills to make your vision come to life in your photography. We will take time to find unique perspectives and capture images that inspire the viewer of your work with a sense of awe.


We will be available to pick you up on the first day of the trip before 3pm and return you to the Idaho Falls Idaho Airport by 1 pm the last day of the trip or you can arrange to fly into West Yellowstone Montana and depart from Jackson Wyoming.
After picking you up in Idaho Falls we will proceed to West Yellowstone and check in to our hotel. During our drive we will discuss our plans, current conditions and hear your expectations for the workshop. West Yellowstone is the most scenic entrance and provides great autumn photo opportunities as we drive along the beautiful Madison River toward our morning adventures.
Days 2, 3 will have use exploring the wonders of the world first national park, developing your creative potential and perfecting the techniques needed to exceed your expectations.
On the afternoon of day 3 we will be photographing our way to one of the most scenic mountain ranges in the world and home of Grand Teton National Park. During the rest of this adventure we will be surrounded by the land that is microcosm of today's west. From the glitter of the Jackson Town Square to the early morning call of a lone wolf in the mist, Jackson Hole and the Grand Tetons are a place that will thrill your spirit and can capture your soul. From the first light touching the majestic Teton range to the chance to photograph the milky way rising in the south west you will be able to capture in your images, sights and scenes many photographers will never experience. Jackson Hole is much more than a pretty mountain range. The area abounds with wildlife; Wolves, Grizzlies, Moose, Elk, Bighorn Sheep, Pronghorn are all here for use to find and photograph with the Teton range and the Snake river as a backdrop. There is more here than we can photograph in a few days but enough to saturate your imagination with the possibilities.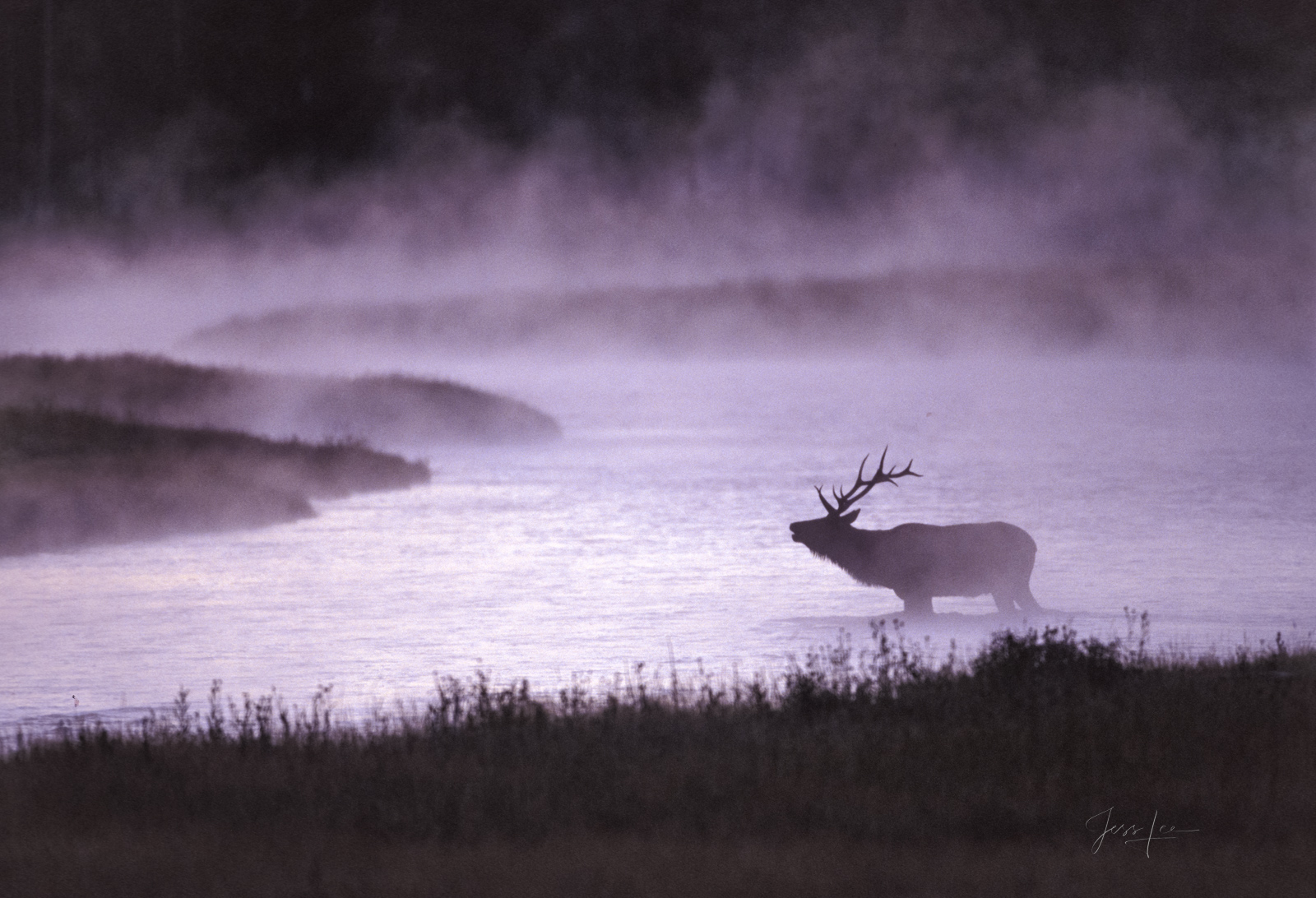 What is included:Transportation, Lodging, Guiding, Instruction and park fees from our meeting to departure in Idaho Falls. Max 6 Students, 2 Guide/Instructors and time to Learn, Grow and Create in the world best combination Wildlife/Landscape classroom.
Not included: Transportation to and from Idaho Falls, Meals, Guide Gratuities.
Investment: $5395 private room. If you wish to share a room with a traveling companion the price is $4995. per person. Deposit: $2500. non refundable to hold your place.

Final Payment is due 120 days before the arrival date. We do recommend trip insurance.

Clients Video from Winter 2021
Terms and Conditions
GROUP MINIMUM: Occasionally I am able to run a trip below our group minimum which is generally 3. In such instances it may be necessary to apply a small group supplement. You would be contacted regarding such a situation but you would not be obligated to accept the new terms.RESERVATIONS: Your deposit is required to secure your place on any trip, with the balance due120 days prior to the departure date..Details of hotels, flight arrival recommendations and other trip tips will be mailed when the tour is full.MEALS: Some meals and refreshments are included depending on the trip details, but not alcoholic beverages.ADMISSIONS: Access to public buildings and national parks etc. is not included in the land price.CANCELLATIONS: All cancellations must be confirmed in writing, and due to costs incurred by Jess Lee Photos in arranging a tour, deposits are non refundable. Payment in full is required 120 days prior to departure. Cancellations after 120 days will receive a full refund( except deposit) if your spot can be filled from a waiting list or if you can fill your spot.JessLeePhotos LLC strongly suggest that tour participants invest in trip cancellation insurance..CANCELED EXPEDITIONS: In the event of insufficient tour sign-ups, JessLeePhotos reserves the right to cancel any given trip. In that event 100% of moneys received will be returned. However, JessLeePhotos is not responsible for expenses incurred by its customers.LUGGAGE: JessLeePhotos request that tour participants limit their luggage to the equivalent of one suitcase, one flight bag, one camera bag and tripod. We asks that group members bear in mind space and comfort in our vehicles. All personal luggage is the responsibility of the owner so please keep the weight to a limit you can handle and other restrictions can be met.SMOKERS: Smoking is not permitted at meals or on vans. It can be permitted at photo stops where local ordinances permit, photography and photographers are not affected.RESPONSIBILITY: JessLeePhotos LLC and its agents act only as agents for the passenger in all matters relating to travel arrangements, and as such, do not assume responsibility for injury, accident, damage, loss, delay or irregularity which may occur via defect of transportation or any other cause. JessLeePhotos reserves the right to substitute hotels, and other previously outlined arrangements as necessary, to either improve or equal the travel experience.JessLeePhotos reserves the right to pass on to tour members any additional and unplanned expenditures incurred during the tour, via events beyond JessLeePhotos' control.The right is reserved to accept or decline any person as a member of any tour.Payment of tour fees by trip participants constitutes their acceptance of all conditions contained herein including but not limited to injury, death or other liability incurred during a trip.