Grand Teton Early Winter Photo Workshop

November 26 - December 1st, 2023
Fabulous Scenery, Wildlife and a great start to your Holiday Season.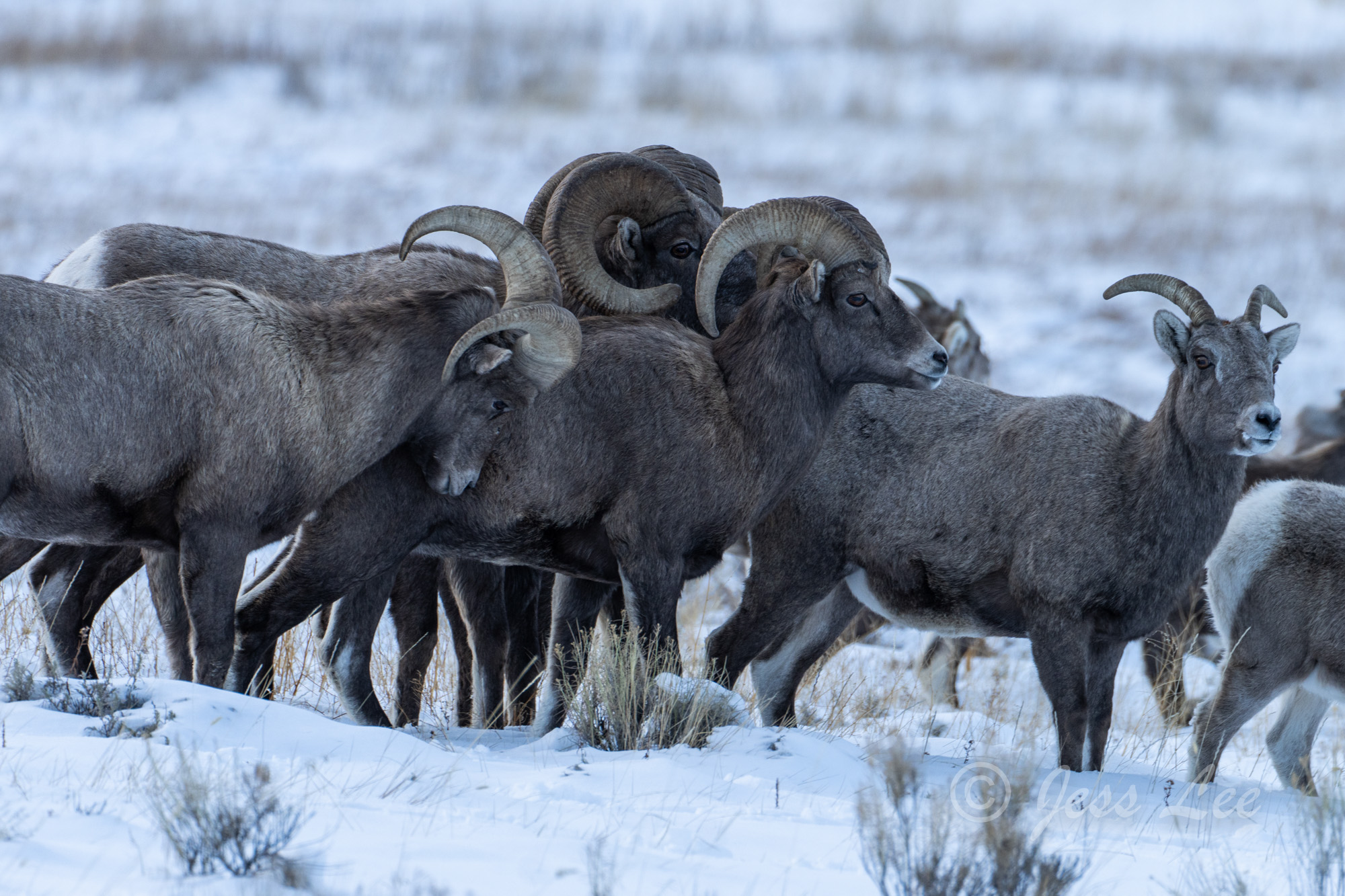 Jion me for this Grand Teton Photo workshop in the late fall early wintertime when the park is full of wildlife and dramatic landscapes but low on tourists. Nowhere is grander in the early winter at the beginning of the Holiday Season than Grand Teton National Park and Jackson Hole Wyoming. Join Jess Lee and crew for this special early winter photography tour to the most photographic mountain range in North America. We will put you in great locations at the right time to capture unique images of this special place we call the Tetons. Not only is the scenery spectacular but the wildlife in Jackson Hole is abundant. The National Elk Refuge has an average of 7500 elk wintering in the heart of Jackson Hole and this is the time those elk will be migrating through the areas we will be photographing. The famous Moose of Jackson Hole should still have their massive antlers and hungry predators will be searching for prey. The Rocky Mountain Bighorn Sheep will be some of our subjects during the beginning of their breeding season. Wolf and Mountain Lion sights are uncommon but every year these wary predators are found in the area. Jackson Hole has 47 species of mammals which also includes River Otters, Fox and Coyotes.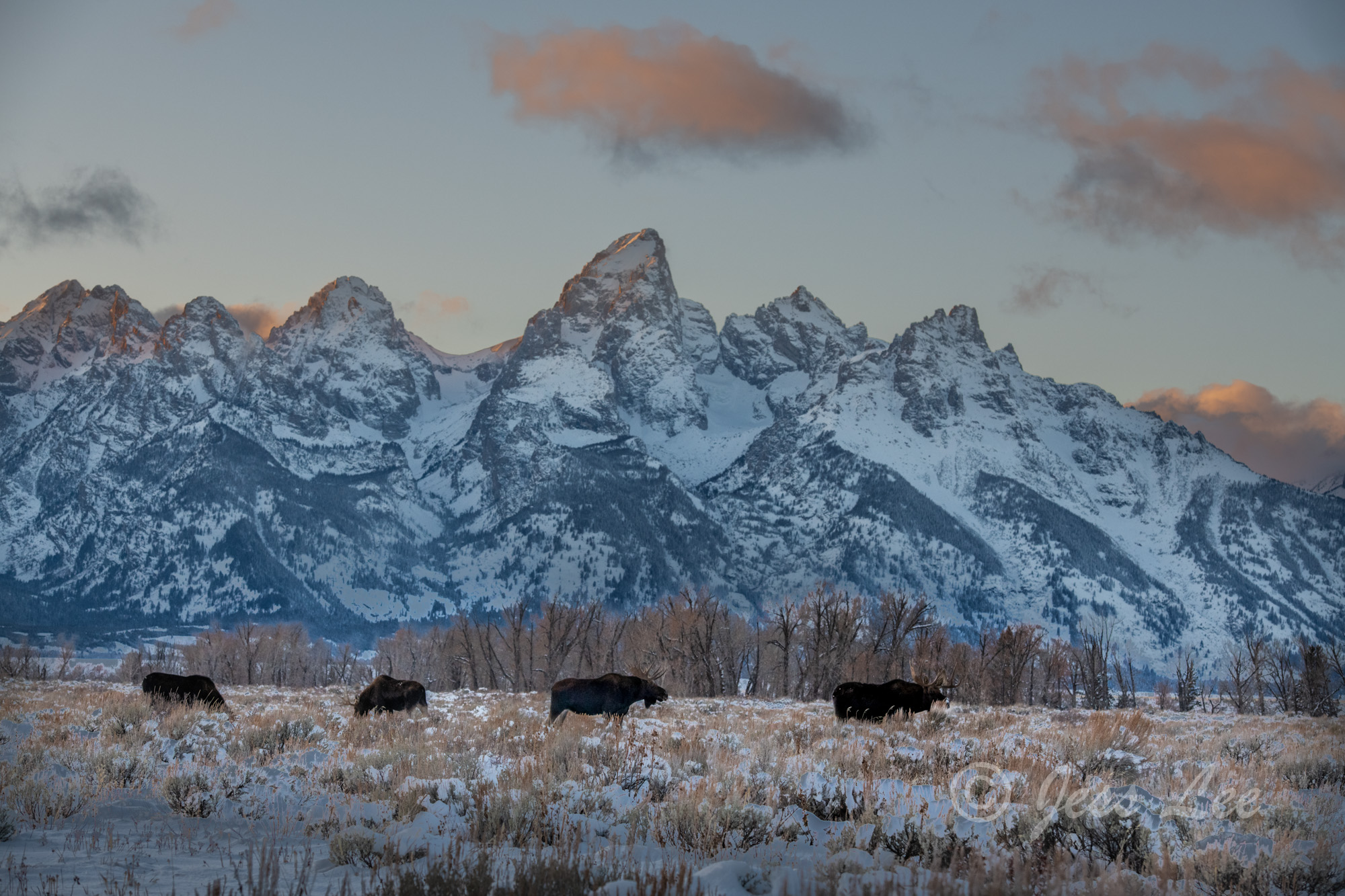 In addition to the natural splendor, Jackson will be decorated in the spirit of the holiday season. The famous elk antlers arches and the downtown area will be lit up with holiday decorations giving us great opportunities for early evening photoshoots. During this time there will also be the possibility of capturing the Lunar Eclipse and the full moon setting over the snowcapped Tetons.
Plan to arrive by mid-day on the 28th so you can be picked up at the Jackson Wyoming airport and we can prepare for a quick afternoon shoot to make sure your equipment is working and you are ready for the thrilling days ahead. Each morning we will leave Jackson well before dawn to be in position at a new location to capture the splendor of the majestic Teton Range lit by the predawn alpine glow. As the sun rises we will search for the prime conditioned wildlife in the frost covered valley of Jackson Hole. The morning can bring crisp clear magically sparkling ice crystal air, mystical fog or with luck a wind driven snowstorm to add a sense of wonder to this fabulous place.
After our morning shoot, we will head back to Jackson for a hot meal, the time you review your mornings' work and time to talk photography. With the short winter days, we will soon be back on the road in the comfort of our four-wheel drive SUV. We will be on our way to photograph more wildlife and then the evening glow as the sun sets behind the Tetons with the full moon rising to the east.
For our next sunrise, we will be leaving earlier to capture the Tetons as the valley is lit by the predawn light as we photograph one of the most beautiful scenes you will find in any mountain range. Then as the light changes, we will be off to photograph the Big Horn Sheep rut as they begin their breeding season. We may even catch a couple of rams battle for the favor of one of the females. Or we may just track down the area where the bull moose gather after their breeding season is over. No matter which choice we make, on each outing we will be watching for hunting Coyotes, Foxes, and even the elusive Teton wolf pack. One of the great things about this trip is that we are never short of awesome, unique photography subjects.
Too soon will come the morning of December 2nd where after a sunrise shoot and a final brunch you will be taken to the Jackson airport for your return flight home. Even after you arrive home Jess will be available to discuss your images and processing should the need arrive.
Jess has been living, photographing, guiding, and instructing in the Yellowstone-Teton eco-system for over 30 years. Jess has spent over a hundred days a year photographing Yellowstone- Grand Teton and its wildlife. Thousands of his award-winning Yellowstone-Grand Teton photographs have appeared in publications such as National Wildlife, Sierra, Defenders of Wildlife, and Sports Afield. Jess's wild wolf images have appeared in prestigious publications such as covers on National Geographic, National Wildlife, and Defenders of Wildlife, and many more wolf images have been used to promote the reintroduction of this critical species in publications such as Smithsonian and films including Ken Burns recent hit production " National Parks, Americas Best Idea". While most tour leaders come to Yellowstone for a few short weeks a year we are attuned to the local conditions and keep up to date on the wildlife activities by daily contact. In addition, we have a vast network of local friends who are constantly reporting to us on wildlife activities. This is your chance to learn from that vast base of experience.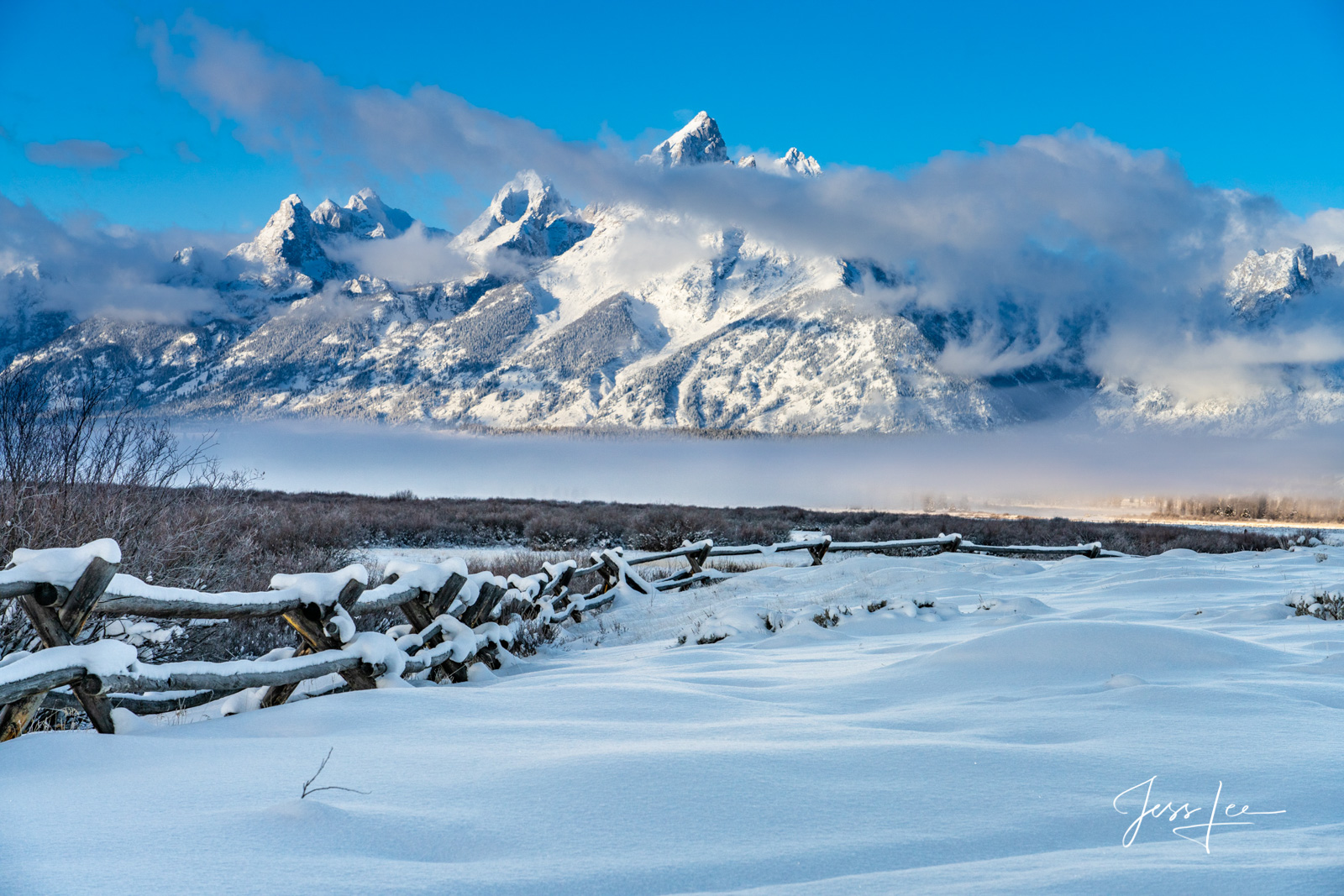 Price $3495. Based on sharing a room. Including Lodging, Guiding, Park Fees, Transportation including airport pickup, and drop-off with only 3 passengers per Luxury SUV for your comfort and safety. One of the most unique small group photography experiences on the planet...Holidays in the Tetons-Priceless.
Single Supplement $300. $1000 deposit holds your place. Final Payment due September 1, 2021
Plan to Arrive at Jackson Hole Airport by 3 PM on the 27th if possible and Depart after 11 AM on December 1st.


Terms and Conditions
GROUP MINIMUM: Occasionally I am able to run a trip below our group minimum which is generally 3. In such instances it may be necessary to apply a small group supplement. You would be contacted regarding such a situation but you would not be obligated to accept the new terms.RESERVATIONS: Your deposit is required to secure your place on any trip, with the balance due120 days prior to the departure date..Details of hotels, flight arrival recommendations and other trip tips will be mailed when the tour is full.MEALS: Some meals and refreshments are included depending on the trip details, but not alcoholic beverages.ADMISSIONS: Access to public buildings and national parks etc. is not included in the land price.CANCELLATIONS: All cancellations must be confirmed in writing, and due to costs incurred by Jess Lee Photos in arranging a tour, deposits are non refundable. Payment in full is required 120 days prior to departure. Cancellations after 120 days will receive a full refund( except deposit) if your spot can be filled from a waiting list or if you can fill your spot.JessLeePhotos LLC strongly suggest that tour participants invest in trip cancellation insurance..CANCELED EXPEDITIONS: In the event of insufficient tour sign-ups, JessLeePhotos reserves the right to cancel any given trip. In that event 100% of moneys received will be returned. However, JessLeePhotos is not responsible for expenses incurred by its customers.LUGGAGE: JessLeePhotos request that tour participants limit their luggage to the equivalent of one suitcase, one flight bag, one camera bag and tripod. We asks that group members bear in mind space and comfort in our vehicles. All personal luggage is the responsibility of the owner so please keep the weight to a limit you can handle and other restrictions can be met.SMOKERS: Smoking is not permitted at meals or on vans. It can be permitted at photo stops where local ordinances permit, photography and photographers are not affected.RESPONSIBILITY: JessLeePhotos LLC and its agents act only as agents for the passenger in all matters relating to travel arrangements, and as such, do not assume responsibility for injury, accident, damage, loss, delay or irregularity which may occur via defect of transportation or any other cause. JessLeePhotos reserves the right to substitute hotels, and other previously outlined arrangements as necessary, to either improve or equal the travel experience.JessLeePhotos reserves the right to pass on to tour members any additional and unplanned expenditures incurred during the tour, via events beyond JessLeePhotos' control.The right is reserved to accept or decline any person as a member of any tour.Payment of tour fees by trip participants constitutes their acceptance of all conditions contained herein including but not limited to injury, death or other liability incurred during a trip.
In consideration of the services of Jess Lee Photography, their officers, agents, employees, and stockholders, and all other persons or entities associated with those businesses (hereinafter collectively referred to as "JLP"), I agree as follows: Although JLP has taken reasonable steps to provide me with appropriate equipment and skilled guides so I can enjoy an activity for which I may not be skilled, JLP has informed me this activity is not without risk. Certain risks are inherent in each activity and cannot be eliminated without destroying the unique character of the activity. These inherent risks are some of the same elements that contribute to the unique character of this activity and can be the cause of loss or damage to my equipment, or accidental injury, illness, or in extreme cases, permanent trauma or death. JLP does not want to frighten me or reduce my enthusiasm for this activity, but believes it is important for me to know in advance what to expect and to be informed of the inherent risks. The following describes some, but not all, of those risks.
I am aware that Photography Workshops entail risks of injury or death to any participant. I understand the description of these inherent risks is not complete and that other unknown or unanticipated inherent risks may result in injury or death. I agree to assume and accept full responsibility for the risks identified herein and those inherent risks not specifically identified. My participation in this activity is purely voluntary; no one is forcing me to participate, and I elect to participate in spite of and with full knowledge of the inherent risks.
I acknowledge that engaging in this activity may require a degree of skill and knowledge different than other activities and that I have responsibilities as a participant. I acknowledge that the staff of JLP has been available to more fully explain to me the nature and physical demands of this activity and the inherent risks, hazards, and dangers associated with this activity.
I certify that I am fully capable of participating in this activity. Therefore, I assume and accept full responsibility for myself, including all minor children in my care, custody, and control, for bodily injury, death, or loss of personal property and expenses as a result of those inherent risks and dangers identified herein and those inherent risks and dangers not specifically identified, and, as a result of my negligence in participating in this activity.
I have carefully read, clearly understand and accept the terms and conditions stated herein and acknowledge that this agreement shall be effective and binding upon myself, my heirs, assigns, personal representative and estate and for all members of my family, including minor children