Bear Photography Workshop and Tour
July 11-16
Join my Alaska Grizzly Bear photography workshop and tour where you can photograph fishing Grizzly Bears ( AKA Brown Bears) in the fabulous wilderness of Katmai National Park. On this trip we will be flying to remote wilderness areas to photograph fishing Brown Bears.
This can be ultimate wildlife photography experience for wildlife photographers. If you share the dream of capturing images of these huge coastal bears fishing in pristine streams, with beautiful landscape backgrounds this trip will satisfy your goals and more. Iconic photos of bears chasing and catching salmon don't come easy, salmon runs are variable in timing and intensity making getting the best images difficult at best as bears move from location to location as the spawning run dictate. This workshop solves that problem.
To see more Alaska Bear Photos from my workshop check here
From our private lodge deep in the heart of Alaska's premier wilderness on the shore of Lake Iliamna nestled between Katmai, Mc Neil River and Lake Clark where we will fly out each day to a different location to photograph peak of the bear fishing action. We will safely photograph Brown Bears activity fishing for salmon in the most productive locations in th world. You will be in awe of the opportunities provided in this trip. Also there will be bears conducting the rae behaviour of digging and feeding on clams. With many decades and hundreds of trips to photograph Grizzlies I can say this is the best chance to capture the primer action of Brown Bears fishing for salmon from a bears eye view. In addition we will also have an opportunity to photograph a huge remote and seldom visited walrus colony.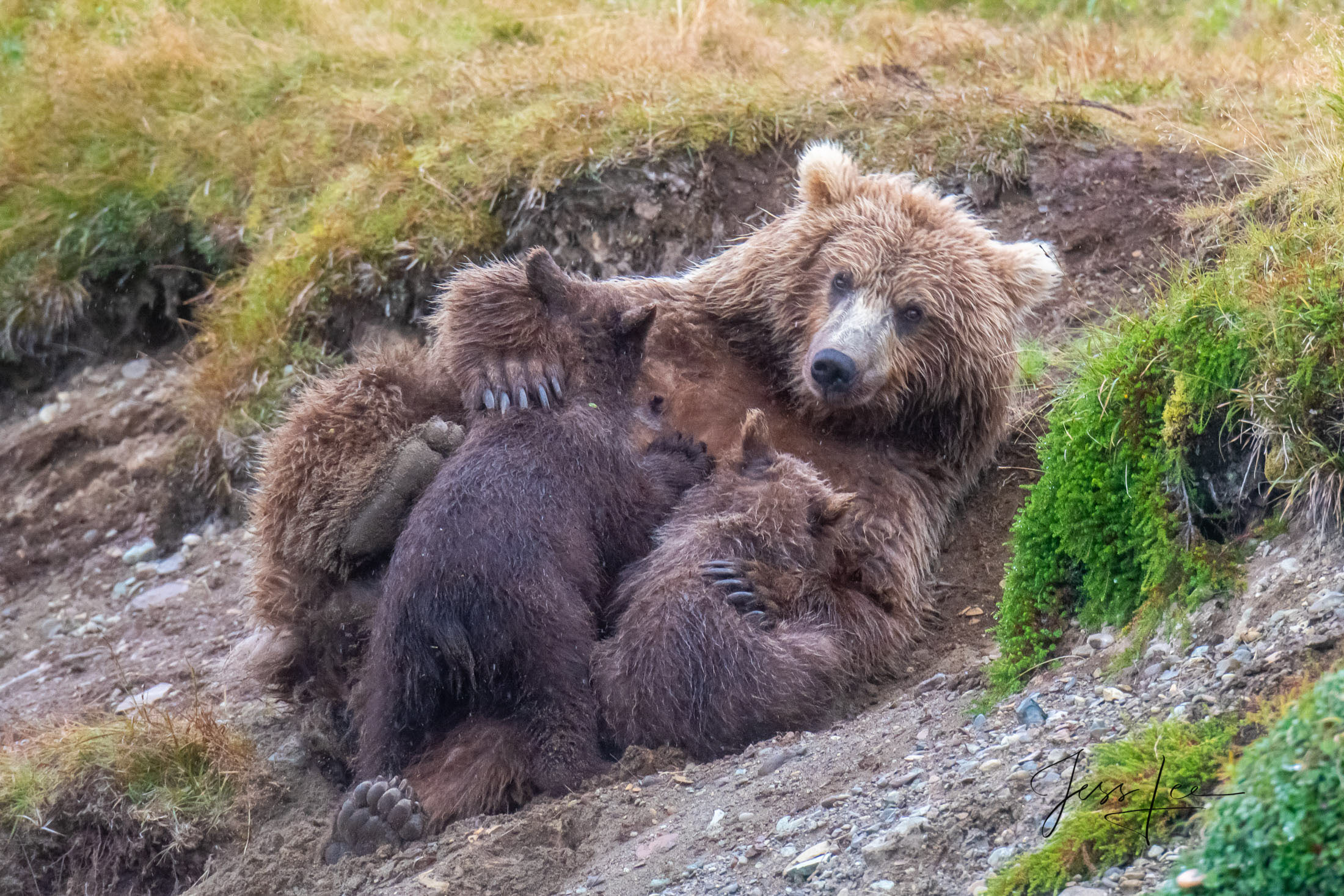 Our lodge offers a truly comfortable Alaska experience from the wonderful meals to the awesome view of the scenic location. You can enjoy the view or just relax in front of the fireplace reliving the days experiences and planning for tomorrows adventure. Lodge bedrooms or lovely cedar paneled cabins, each with a private bath makes for a great place to rest after an fulfilling day with the bears.Included: All meals at the bear lodge, daily flights from the lodge and back, guiding and professional field instruction on photography and bear behavior.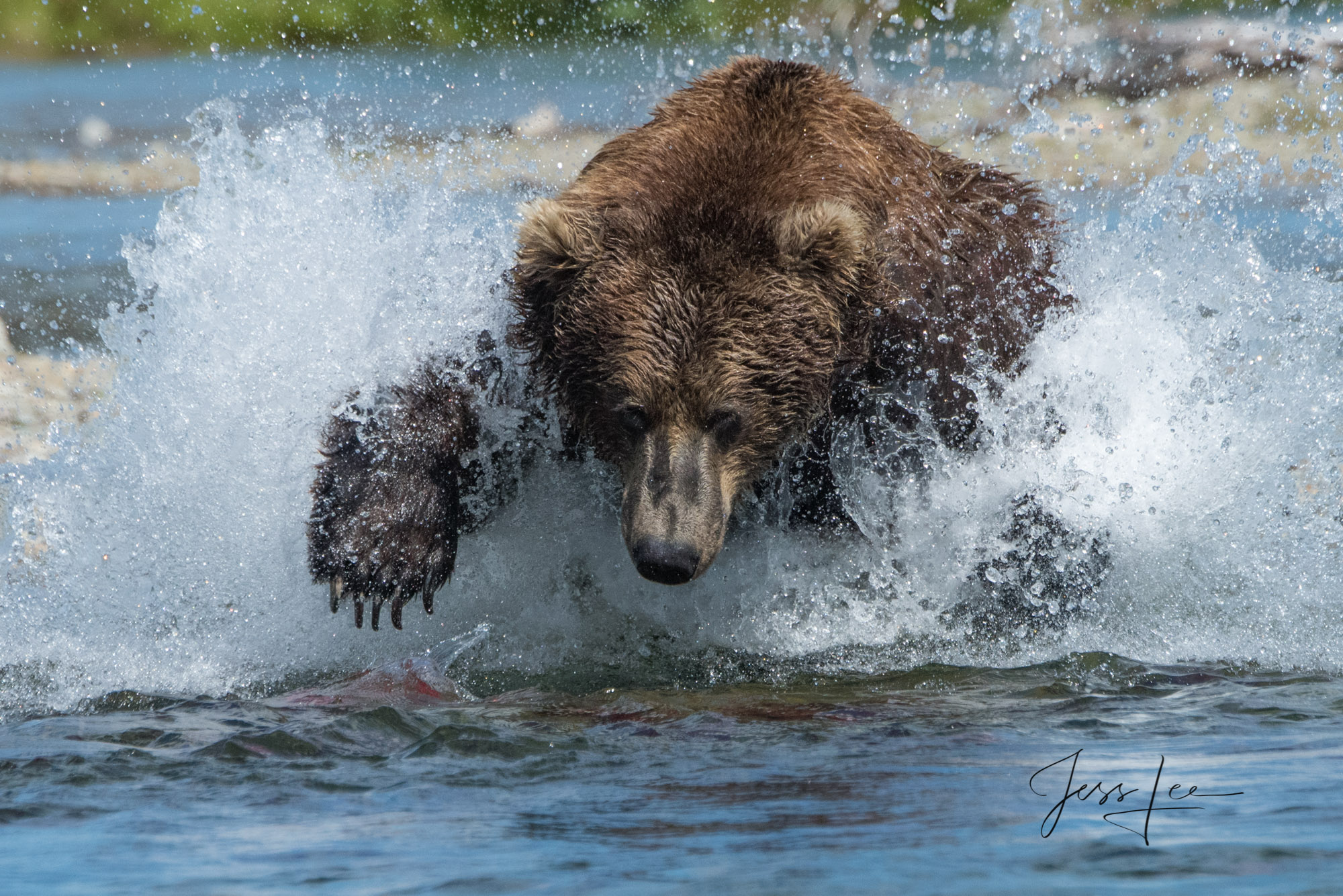 Not Included: Transportation to Anchorage. Your Flights from Anchorage to the bear lodge and return is $450. Tips (tips for the guiding and staff is normally $150 - 200 per client). If flights are delayed due to weather additional lodge cost is not included.
Some walking is required at some destinations but it is seldom more than a mile. You should be fit enough to carry your own gear for those distances wearing waders. Walking fast is not necessary.
Plan on arriving in Anchorage by July 21st and return to Anchorage the afternoon of the 27 th.


Cost is $9995.
A $2500 non refundable deposit holds your place on this amazing workshop.
Space is already filling so Email here or call 208-521-5170 to reserve you place on this great trip.
To see more bear photos from past trips check here.
Terms and Conditions
GROUP MINIMUM: Occasionally I am able to run a trip below our group minimum which is generally 3. In such instances it may be necessary to apply a small group supplement. You would be contacted regarding such a situation but you would not be obligated to accept the new terms.RESERVATIONS: Your deposit is required to secure your place on any trip, with the balance due120 days prior to the departure date..Details of hotels, flight arrival recommendations and other trip tips will be mailed when the tour is full.MEALS: Some meals and refreshments are included depending on the trip details, but not alcoholic beverages.ADMISSIONS: Access to public buildings and national parks etc. is not included in the land price.CANCELLATIONS: All cancellations must be confirmed in writing, and due to costs incurred by Jess Lee Photos in arranging a tour, deposits are non refundable. Payment in full is required 120 days prior to departure. Cancellations after 120 days will receive a full refund( except deposit) if your spot can be filled from a waiting list or if you can fill your spot.JessLeePhotos LLC strongly suggest that tour participants invest in trip cancellation insurance..CANCELED EXPEDITIONS: In the event of insufficient tour sign-ups, JessLeePhotos reserves the right to cancel any given trip. In that event 100% of moneys received will be returned. However, JessLeePhotos is not responsible for expenses incurred by its customers.LUGGAGE: JessLeePhotos request that tour participants limit their luggage to the equivalent of one suitcase, one flight bag, one camera bag and tripod. We asks that group members bear in mind space and comfort in our vehicles. All personal luggage is the responsibility of the owner so please keep the weight to a limit you can handle and other restrictions can be met.SMOKERS: Smoking is not permitted at meals or on vans. It can be permitted at photo stops where local ordinances permit, photography and photographers are not affected.RESPONSIBILITY: JessLeePhotos LLC and its agents act only as agents for the passenger in all matters relating to travel arrangements, and as such, do not assume responsibility for injury, accident, damage, loss, delay or irregularity which may occur via defect of transportation or any other cause. JessLeePhotos reserves the right to substitute hotels, and other previously outlined arrangements as necessary, to either improve or equal the travel experience.JessLeePhotos reserves the right to pass on to tour members any additional and unplanned expenditures incurred during the tour, via events beyond JessLeePhotos' control.The right is reserved to accept or decline any person as a member of any tour.Payment of tour fees by trip participants constitutes their acceptance of all conditions contained herein including but not limited to injury, death or other liability incurred during a trip.