Fine Art Photography Prints For Sale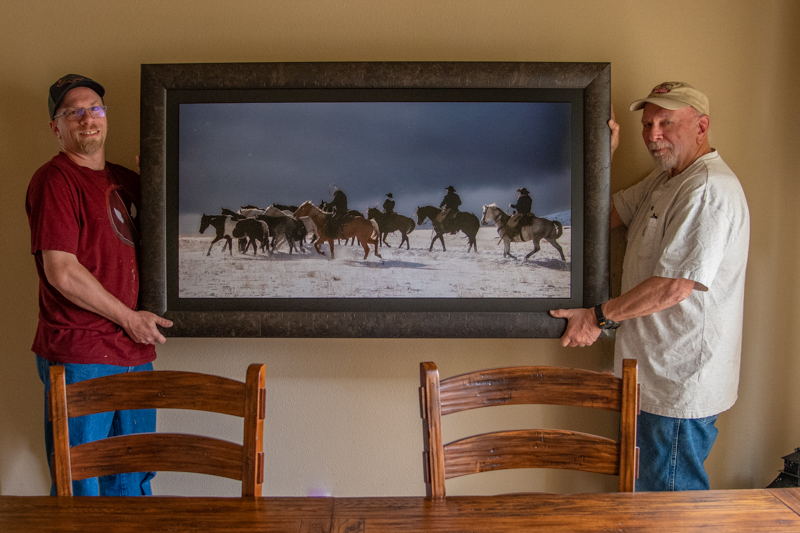 Exclusive Limited Edition Fine Art Prints
Thank you for visiting my online gallery of fine art photography. My goal is to provide the very best in landscape and wildlife photographic artwork using the most advanced photography, processing and printing processes with the highest quality materials. I seek out the best fine art printers in the United States to print your artwork and have a very special line of prints that are printed by my hand.(soon to be available on line).
If you have a special project in mind please contact me and and we can discuss options to meet your needs.

Limited Edition Prints
All of my prints are limited editions with from 250 to 25 prints made of each image, regardless of style. By limiting the number of times each image is printed, their value is increased. While I have done larger print runs for corporate client those images are retired from public sales.
Display Options and Ordering
I am proud to offer my images in four main styles
Lumachrome® HD Trulife® Acrylic Prints, Ready to Hang
Exhibit Mounted Metal Print, Ready to Hang
Fuji Crystal Archive Print, Ready for Framing
Museum Quality Fine Art Rag

Print options and sizes are shown beneath the display of each image. Just click on the style and size you want to order. If there is a special size or something different that you need as to style, please contact me.
Lumachrome® HD Trulife® Acrylic Print, Ready to Hang
I prefer to dispaly much of my work on the finest acrylic print in the world, the Lumachrome® HD Acrylic Print using TruLife® acrylic. The Lumachrome® process is engineered to overcome and surpass the limitations of traditional Fujiflex chromagenic and other inkjet processes. Details appear to emerge in 3D from the depths of the image with the Lumachrome® process along with brilliant colors, superior shadow luminosity & detail and a radiant glowing response under halogen lighting.

Trulife® acrylic is an innovative, single sided, anti-reflective and abrasion resistant acrylic. It virtually eliminates reflections, blocks up to 99% of UV rays, has a hard coat that protects against scratches and cleans like glass. Your print will have a 1/8 inch thick acrylic surface with an aluminum backing and an HD 1.375" ROMA back mounted recessed floating frame allowing your artwork to appear to "float" on the wall.

OTHER FRAMING OPTIONS
While the frameless Lumachrome prints look great, you may prefer to purchase your print without the rear frame so that it may be placed inside a wood frame. We highly recommend the use of a linen mat in addition to the frame. I also highly recommend RomaMoulding® or LARSON-JUHL wood frames. While these frames are available at most custom frame shops, it would be my pleasure to provide you with a finished product including a mat and frame. I would be happy to discuss the options with you.


Exhibit Mounted Metal Print, Ready to Hang
These prints represent a new art medium for preserving photos by infusing dyes directly into specially coated aluminum sheets. Your images will take on a magical luminescence. Colors are vibrant and the luminescence is breathtaking. Detail and resolution are unsurpassed. They are available in sizes up to 48" x 96".

The prints are made with a brilliant white high gloss surface for unsurpassed detail and vibrance. They are mounted on 2mm black Styrene and finished with a black edge and an black metal inset frame that floats the print ¾" off the wall when hung. If you need a size that is not shown or a larger size, please contact me for options.
Fuji Crystal Archive Print, Ready for Framing
These fine art prints are made using Fuji Crystal Digital Pearl paper, which is in my opinion, is the finest paper available for printing high gloss Fine Art Photographs. Pearl-like crystals give silver halide color prints a specific luster, creating a distinctive pearl-like appearance, which is sure to capture your attention. This glossy surface offers sharp detail, high intensity colors, and a distinctive pearl-like appearance. The prints are mounted to a 2mm black or white Styrene backing that resists warping, making it an excellent choice for adding durability and providing rigidity for framing. These prints are available in almost any size up 100 inches. There are options for even larger prints. As I recall the larges we have done on paper was 160 inches long.

Museum Quality Fine Art Rag
Hahnemühle Photo Rag a white, 100% cotton paper with a smooth surface texture – guarantees archival standards. With its premium matt inkjet coating
I prefer this paper for the best classic fine art display medium. My work has been printed on this paper over one thousand times and displayed in collections worldwide. Its surface is smooth with a subtle texture, and a slightly warm base that produces very pleasing B&W prints reminiscent of platinum prints and meets the highest industry standards regarding density, colour gamut, colour graduation and image sharpness while preserving the special touch and feel of genuine art paper.


Shipping Costs
The cost of shipping is included for loose prints orders in the United States. Frame and ready to mount shipping and insurance will be charged at the rate of the shipper of your choice. Your artwork will be carefully packed and could require signature upon receipt. Tracking information will be provided to you.
Authenticity
Your Limited Edition Fine Art Print is digitally signed accompanied by a signed and dated Certificate of Authenticity. In most cases the Certificate will be emailed to you as a pdf file, but can be mailed to you, if desired.
Returns For Damage
I stand behind the quality of my products. However, there is always the possibility of something unexpected happening where the print is damaged in packaging or shipping. If your artwork arrives damaged, please notify me immediately and provide me photographs of the damage. I will work with you to return the artwork for a replacement at no cost to you. Please understand that I require that you notify me of the damage within 48 hours of receipt of your artwork.

Displaying Your Artwork

It is important that you display any fine art photography in a well-lit space or with individual lighting. The metallic papers and metal prints do an incredible job of using and reflecting light to show off the image as it should be. While it is not possible to duplicate the brightness of back-lit screens from computers and other devices, the papers and processes used for my artwork will result in outstanding results with proper lighting.

Privacy Policy
Your personal information such as credit card numbers, email address, phone number, etc. will NEVER be sold or given to any other person or business.


Thank You
Above all, I appreciate your interest in my art. If you have any questions, please do not hesitate to contact me.