Aurora Borealis or the northern lights photography is the dream of many adventurous photographers. Now you can join Jess for a well planned Aurora Borealis Photography workshop and tour to some of the best locations to capture the glimmering northern lights during the most productive time of the year.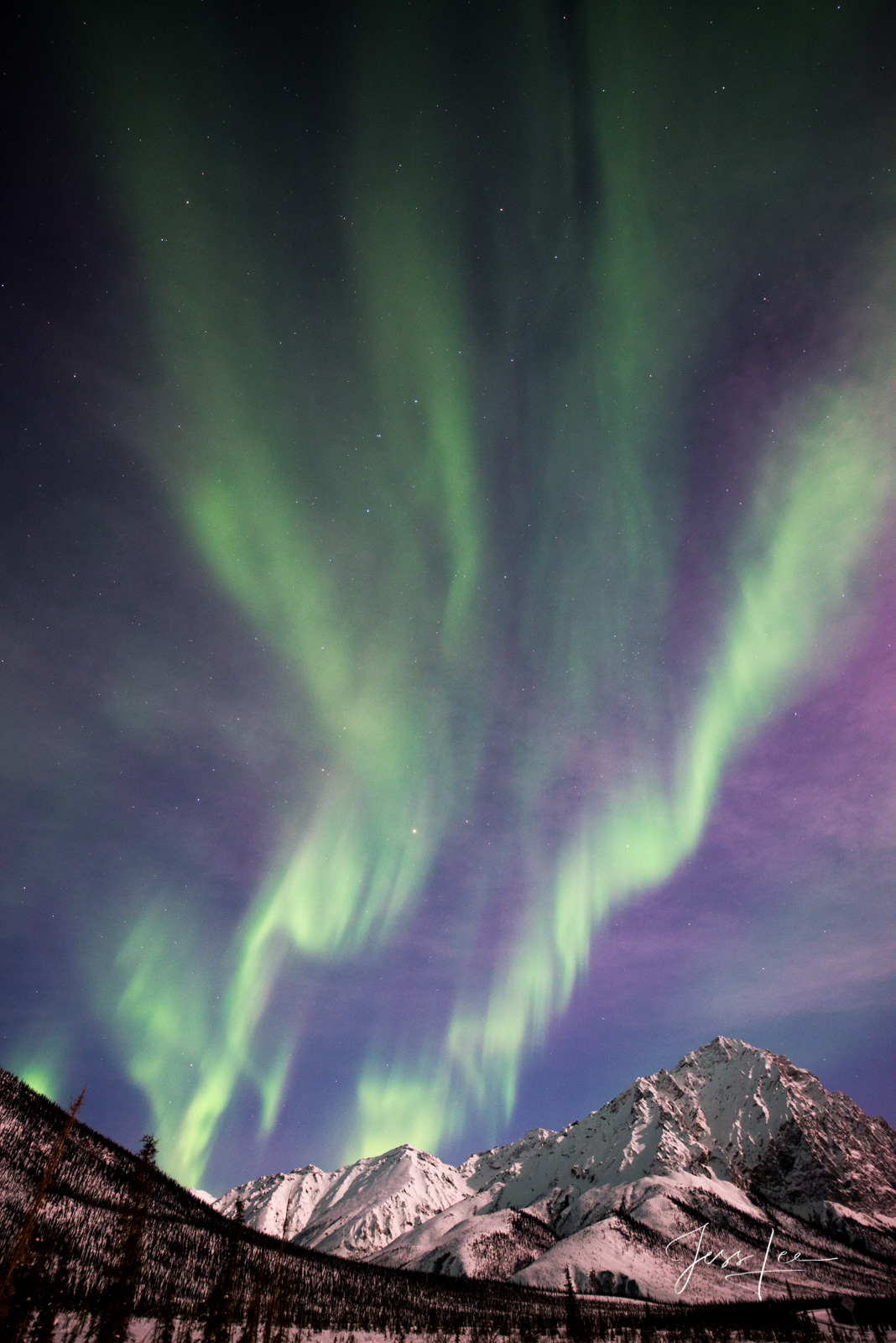 On this expedition of aurora photography we will concentrate our time under the center of the North American Aurora belt and the Alaska range seeking great Northern Lights photos and stunning landscape in winter images. This location and time will give us the best opportunity to capture a super breakout of Aurora as we did in 2019 with fabulous displays of Northern Lights.
We will begin our trip meeting in Anchorage on March 18 th. From our arrival until our return we will be finding the best locations for the spectactular Northern Lights as we travel fo Fairbanks which will be our main base for this trip since it lies in the center of the area in North America where the aurora in normally viewable during the Alaska winter and autumn. But make no mistake there are many places along the way where there will be chances to capture uncommon views of the aurora. From the peaks of the Chugach, past the Talkeetna's,and the Alaska Range we will photography some of the best scenery in Alaska by day and night. This trip is more that an evening drive around Fairbanks. I am not going to give detailed route since we will be chasing the aurora and clear skies to capture our best images. This workshop is scheduled to coincide with the time of the best possibility for clear skies north of the Alaska Range and historically some of the most dramatic aurora activity of the year.
Your transportation will be warm and safe in our 4wd or add vehicles. Worried about the cold? Most people who are not familiar with arctic conditions will be concerned but the fact is you will always be next to a warm vehicle with the heater in-between the pulsing of the arctic sky. We will have you well prepared for this adventure. With our instruction in the art of Northern Lights photography and local knowledge you will be assured of bringing back incredible images of Alaska in winter.

Guiding, instruction, transportation and lodging. $3995. Double occupancy. Single supplement $450.
Non refundable deposit of $1000. guarantees your place. Personal check, paypal, or credit card accepted.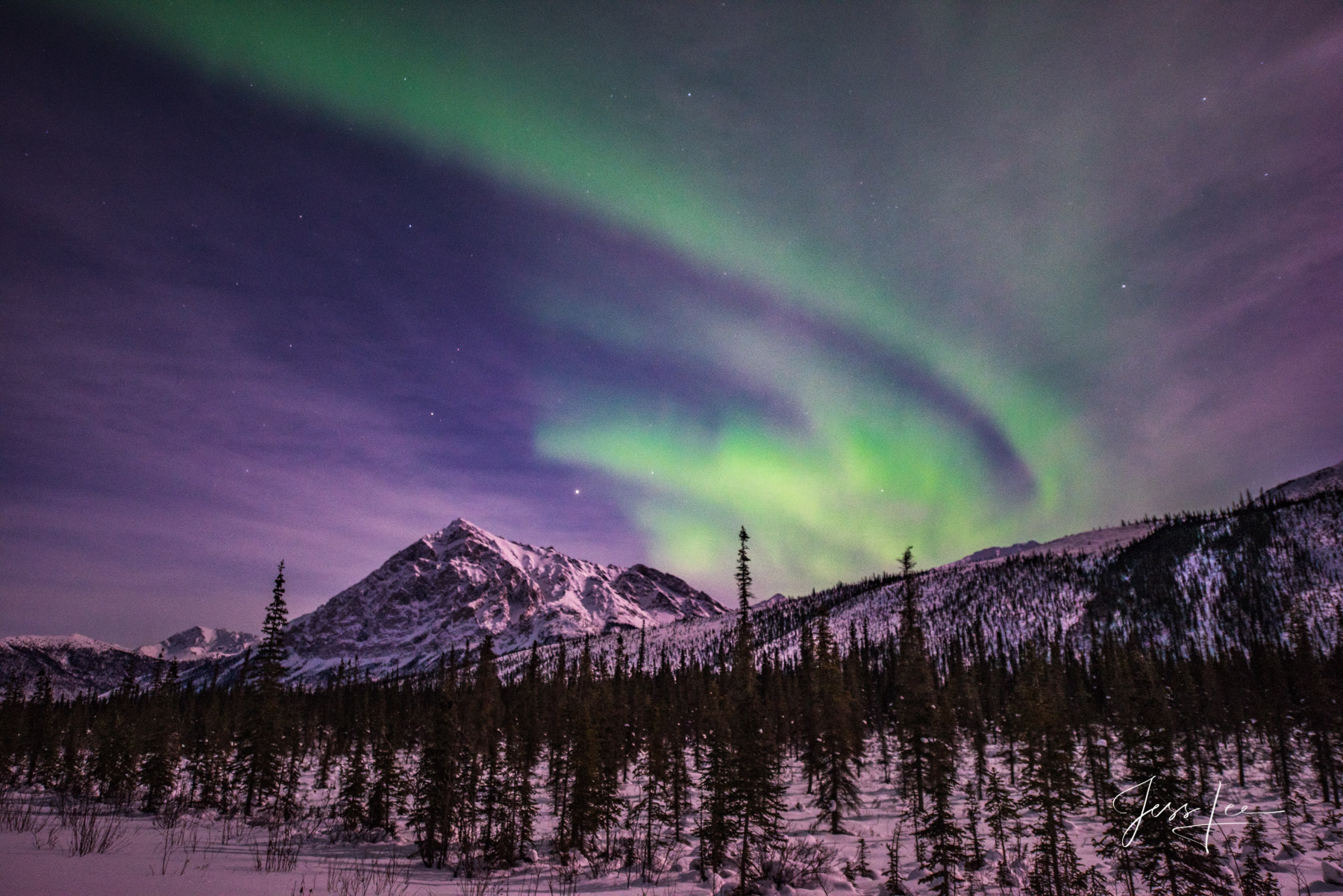 Terms and Conditions
GROUP MINIMUM: Occasionally I am able to run a trip below our group minimum which is generally 3. In such instances it may be necessary to apply a small group supplement. You would be contacted regarding such a situation but you would not be obligated to accept the new terms.RESERVATIONS: Your deposit is required to secure your place on any trip, with the balance due120 days prior to the departure date..Details of hotels, flight arrival recommendations and other trip tips will be mailed when the tour is full.MEALS: Some meals and refreshments are included depending on the trip details, but not alcoholic beverages.ADMISSIONS: Access to public buildings and national parks etc. is not included in the land price.CANCELLATIONS: All cancellations must be confirmed in writing, and due to costs incurred by Jess Lee Photos in arranging a tour, deposits are non refundable. Payment in full is required 120 days prior to departure. Cancellations after 120 days will receive a full refund( except deposit) if your spot can be filled from a waiting list or if you can fill your spot.JessLeePhotos LLC strongly suggest that tour participants invest in trip cancellation insurance..CANCELED EXPEDITIONS: In the event of insufficient tour sign-ups, JessLeePhotos reserves the right to cancel any given trip. In that event 100% of moneys received will be returned. However, JessLeePhotos is not responsible for expenses incurred by its customers.LUGGAGE: JessLeePhotos request that tour participants limit their luggage to the equivalent of one suitcase, one flight bag, one camera bag and tripod. We asks that group members bear in mind space and comfort in our vehicles. All personal luggage is the responsibility of the owner so please keep the weight to a limit you can handle and other restrictions can be met.SMOKERS: Smoking is not permitted at meals or on vans. It can be permitted at photo stops where local ordinances permit, photography and photographers are not affected.RESPONSIBILITY: JessLeePhotos LLC and its agents act only as agents for the passenger in all matters relating to travel arrangements, and as such, do not assume responsibility for injury, accident, damage, loss, delay or irregularity which may occur via defect of transportation or any other cause. JessLeePhotos reserves the right to substitute hotels, and other previously outlined arrangements as necessary, to either improve or equal the travel experience.JessLeePhotos reserves the right to pass on to tour members any additional and unplanned expenditures incurred during the tour, via events beyond JessLeePhotos' control.The right is reserved to accept or decline any person as a member of any tour.Payment of tour fees by trip participants constitutes their acceptance of all conditions contained herein including but not limited to injury, death or other liability incurred during a trip.