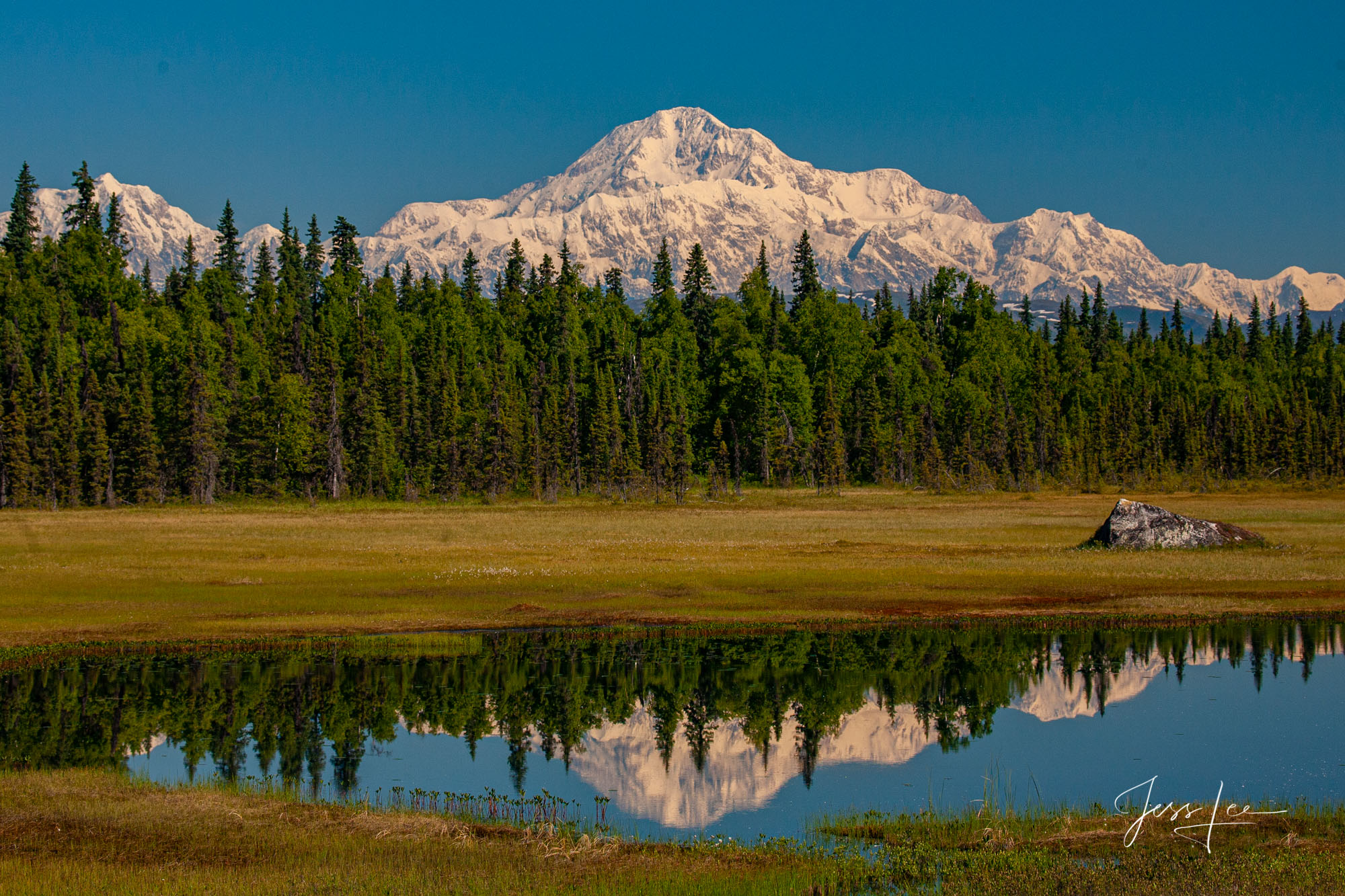 Denali National Park = Wildlife and Landscape Photography Prints
Denali National Park Photography Galley, where you can view pictures and purchase Limited Edition Fine Art Prints. Classic images of Mt. McKinley, Moose, Grizzly Bears, Arctic Tundra, Dall Sheep, and other Denali views. This beautiful photography of Denali National Park Printed in a high-resolution print will add beauty and luxury to your home or office! Order yours today.

Denali National Park and Preserve, formerly known as Mount McKinley National Park, is an American national park and preserve located in Interior Alaska, centered on Denali, the highest mountain in North America. The park and contiguous preserve encompass 6,045,153 acres (9,446 sq mi; 24,464 km2) which is larger than the state of New Hampshire. On December 2, 1980, 2,146,580-acre (3,354 sq mi; 8,687 km2) Denali Wilderness was established within the park. Denali's landscape is a mix of forest at the lowest elevations, including deciduous taiga, with tundra at middle elevations, and glaciers, snow, and bare rock at the highest elevations. The longest glacier is the Kahiltna Glacier. Wintertime activities include dog sledding, cross-country skiing, and snowmobiling. The park received 594,660 recreational visitors in 2018.


Click on any image to see full size and view the available purchase options and pricing.
About Photography and Denali National Park

Denali is six million acres of wild land, bisected by one ribbon of road. Travelers along it see the relatively low-elevation taiga forest give way to high alpine tundra and snowy mountains, culminating in North America's tallest peak, 20,310' Denali. Wild animals large and small roam un-fenced lands, living as they have for ages. Solitude, tranquility and wilderness await.



The Alaska Range is a mountainous expanse running through the entire park, strongly influencing the park's ecosystems. Vegetation in the park depends on the altitude. The treeline is at 2,500 feet (760 m), causing most of the park to be a vast expanse of tundra. In the lowland areas of the park, such as the western sections surrounding Wonder Lake, spruces and willows dominate the forest. Most trees and shrubs do not reach full size, due to unfavorable climate and thin soils. There are three types of forest in the park: from lowest to highest, they are low brush bog, bottomland spruce-poplar forest, upland spruce-hardwood forest. The forest grows in a mosaic, due to periodic fires.

In the tundra of the park, layers of topsoil collect on rotten fragmented rock moved by thousands of years of glacial activity. Mosses, ferns, grasses, and fungi grow on the topsoil. In areas of muskeg, tussocks form and may collect algae. The term 'muskeg' includes spongy waterlogged tussocks as well as deep pools of water covered by solid-looking moss. Wild blueberries and soap berries thrive in the tundra and provide the bears of Denali with the main part of their diet.

Over 450 species of flowering plants fill the park and can be viewed in bloom throughout summer. Images of goldenrod, fireweed, lupine, bluebell, and gentian filling the valleys of Denali are often used on postcards and in artwork.



Denali is home to a variety of North American birds and mammals, including an estimated 300-350 grizzly bears on the north side of the Alaska Range (70 bears per 1000 square miles) and an estimated 2,700 black bears (334 per 1,000 square miles). As of 2014, park biologists were monitoring about 51 wolves in 13 packs (7.4 wolves per 1,000 square miles), while surveys estimated 2,230 caribou in 2013, and 1,477 moose in 2011.[27] Dall sheep are often seen on mountainsides. Smaller animals such as coyotes, hoary marmots, shrews, Arctic ground squirrels, beavers, pikas, and snowshoe hares are seen in abundance. Red and Arctic fox species, martens, Canada lynx, and wolverines also inhabit the park, but are more rarely seen due to their elusive natures.

Many migratory bird species reside in the park during late spring and summer. There are waxwings, Arctic warblers, pine grosbeaks, and wheatears, as well as ptarmigan and the tundra swan. Raptors include a variety of hawks, owls, and gyrfalcons, as well as the abundant but striking golden eagles.



Ten species of fish, including trout, salmon, and Arctic grayling, share the waters of the park. Because many of the rivers and lakes of Denali are fed by glaciers, glacial silt and cold temperatures slow the metabolism of the fish, preventing them from reaching normal sizes.[citation needed] A single amphibious species, the wood frog, also lives among the lakes of the park.

Denali park rangers maintain a constant effort to keep the wildlife wild by limiting the interaction between humans and park animals. Feeding any animal is strictly forbidden, as it may cause adverse effects on the feeding habits of the creature. Visitors are encouraged to view animals from safe distances. In August 2012 the park experienced its first known fatal bear attack when a lone hiker apparently startled a large male grizzly while photographing it. Analysis of the scene and the hiker's camera strongly suggest he violated park regulations regarding backcountry bear encounters, which all permit holders are made aware of.[28] Certain areas of the park are often closed due to uncommon wildlife activity, such as denning areas of wolves and bears or recent kill sites.



Purchase Museum Quality Denali Photography PrintsThese fine art limited edition pictures are available for purchase as the highest quality photography prints possible today. Beginning with the artistic skill to capture beautiful images of wonderful scenes and using the highest resolution digital and film ( Yes, I do occasionally use Large Format Film Cameras) equipment your selected print is designed and produced to assure that these artworks will give you the pleasure of having fabulous mountain scenes on the walls of your home or office to enjoy for years to come. Fine art photography prints can help to relax and sooth you while taking your mind away from the worries of todays issues. No matter if it is in autumn, winter, spring, or summer, landscape and wildlife photography bring not only a feeling of adventure but drama, the quest for the unknown and the thrill of viewing pristine wilderness. Ordering PrintsThe photos from this gallery are made as collectible, museum quality, exclusive, fine art, limited edition luxurious prints. These prints are made from the finest materials in the industry and are available as Lumachrome® HD Trulife® Acrylic Prints, Metal Prints,Canvas , ready to hang wood mounted Plaques and Fuji Crystal Archive Prints. The prints ordered from this gallery are delivered signed and numbered. In addition, along with the luxurious collectible print you will receive a Certificate of Authenticity sign by myself.After selecting the desired photo, just select the type and size of print you would like to purchase in the area beneath the photo. If you are looking for a different size than what is shown or have any other questions or special needs, please contact us.. For more information and details regarding these museum quality landscape prints for sale, please click on this link to our Prints Page. I appreciate you taking the time to look at the many images I have to offer and if you have any questions or special needs, I would be happy to hear from you.