Yellowstone Winter Photography Workshop and Tour
Jan 6-12 Full
Jan 14-20 2024 Full
---
Jan 18-24
2025

2 openings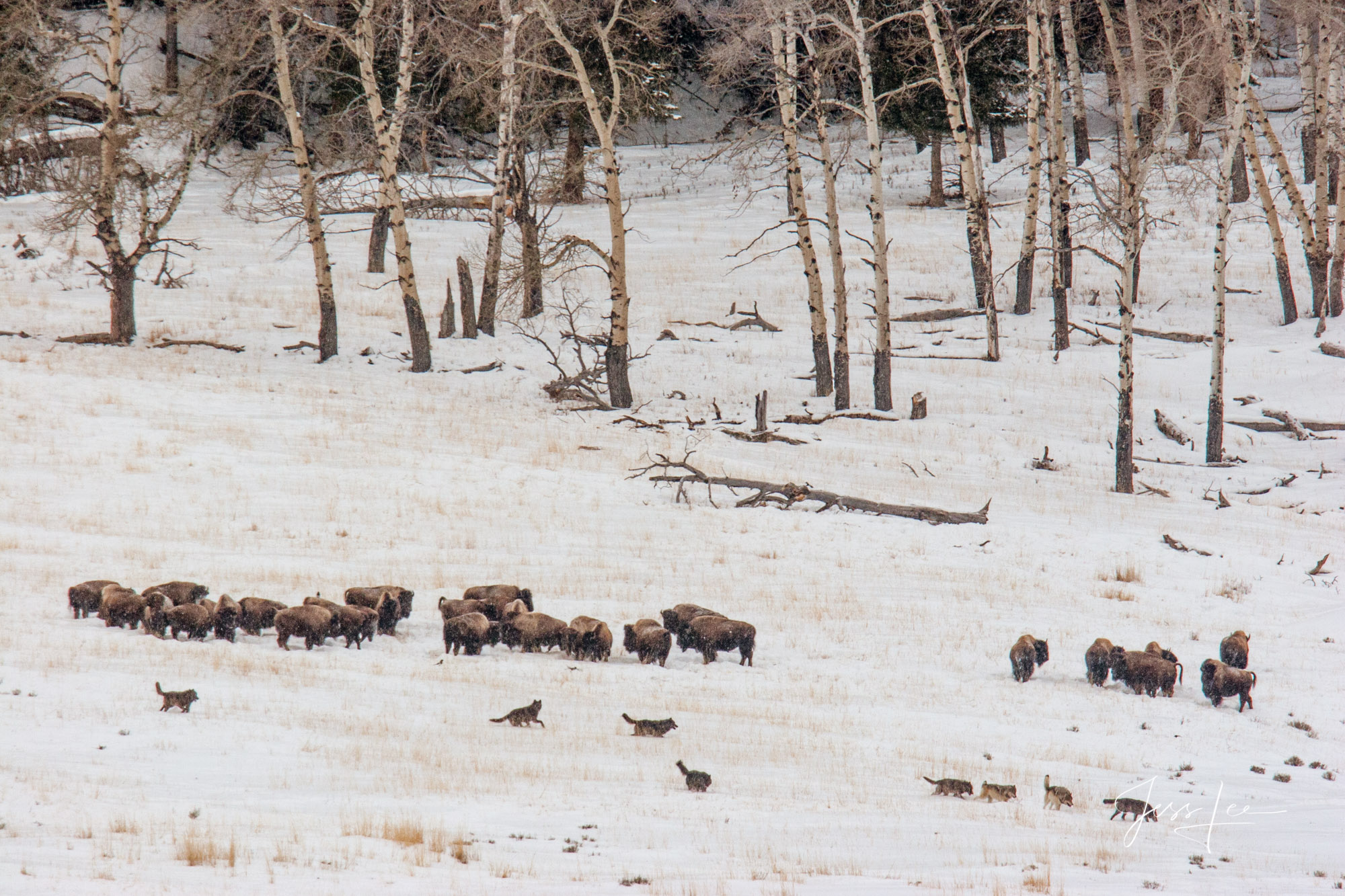 Join us on this small group Yellowstone winter photo tour and photo workshop. Winter in Yellowstone is a special time to photograph unsurpassed landscapes with scenes only found during a Yellowstone Winter.With the cill air the famous Yellowstone thermal features make even more dramatic photo subject than the rest of the year. But Yellowstone in winter is about more than steaming geysers and frozen waterfalls, Yellowstone winter photography is probable the best wildlife photo shoot you will ever experience. In addition to photographing great landscapes and wintering wildlife on this trip, you will learn how to photograph the splendor of Wild Yellowstone in winter.
To View or Purchase, Yellowstone Photography Prints check here
During our time in Lamar Valley and the North Range ( aka, Americas Serengeti ) in a very small group of 4 people in one of our luxury SUV's with a guide/driver where you will have room for your equipment and comfortable seating. While we know and will have you in the best locations to photograph wary animals such wolves, coyotes and foxes have a way of showing up at the most unexpected times and places while we are driving. Traveling in our SUV's, will give you the best chance to "get the shot". This is something that does not happen when you are traveling in a Van with 6 to 10 of your best new friends as many other outfitters trips offer. On our days deep in the interior of the park we will travel in a snowcoach which is a oversnow converted van. Here the situation changes, since in this area we will have the opportunity to stop in the road while we exit the vehicle to photograph.

Yellowstone in winter is the place to photograph the home of spectacular wildlife such as snow-covered Bison, the elusive Yellowstone wolves, and Big Horn Sheep. Predators such as Bobcats, River Otters, Coyotes, and Foxes are a high priority as we search for these silent hunters.
Winter here in Yellowstone also gives us some of the world's most unique winter landscape photography with awe-inspiring beautiful snow blanked landscapes holding pristine, steaming geysers. You will capture images of frozen waterfalls, snow ghost trees, and ice rimed hot springs.
During your Yellowstone Winter trip, you will have Jess and one of his experienced local guides/instructors at your side to assist you in capturing incomparable photographs unique to the Yellowstone Winter Photography experience. You will be traveling and photographing in a small group of 4 photographers in one of our luxury large, warm SUV's with your professional instructor/guide. This trip is hosted and led by long time Yellowstone eco-system resident professional photographer and National Geographic cover photographer Jess Lee.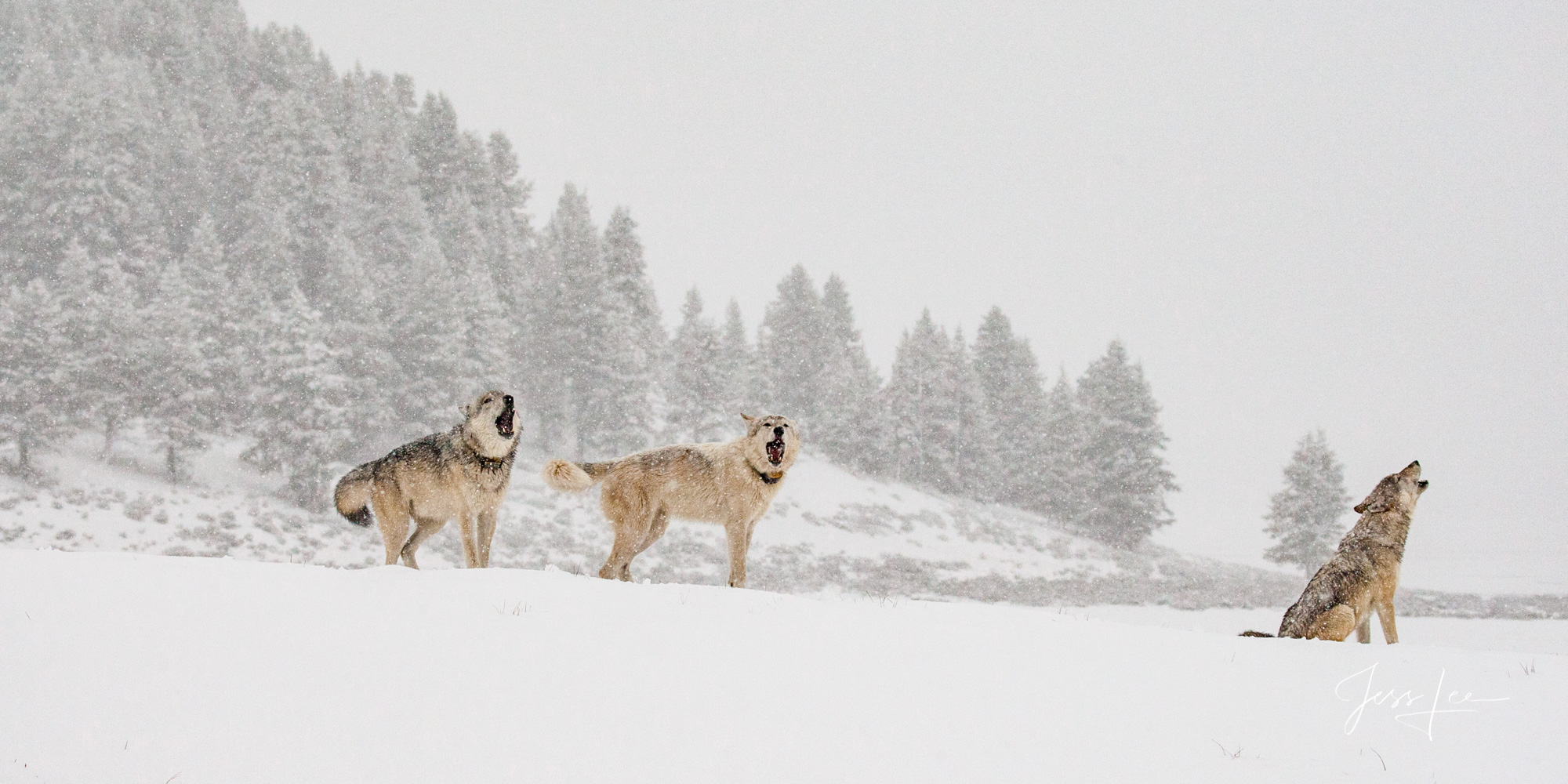 Yellowstone National Park is a winter wonderland where you can capture spectacular photographs and learn about winter photography. You will photograph wintering wildlife, hunting predators, steaming geysers, boiling hot springs, frozen waterfalls, wonderful snow-covered winter landscapes. All in a small group of 8 with a ratio of one guide/instructor to 4 students.
This trip is the best winter, scenery and large mammal photo opportunity on the planet. The combination of the dramatic location, the iconic wildlife encounters with the knowledge and expertise of your guides makes this a special trip. We will put you in the best locations and show you how to bring home incredible images from the wonderland of Yellowstone.


When we pick you up in Bozeman Montana in one of our luxury 4 wheel drive SUV's you and three other students will be starting your photographic adventure as we travel through the Yellowstone eco_system on our way to West Yellowstone where our adventure into the depths of Yellowstone in Winter begins in earnest..

With Jess's and his teams' vast knowledge, local contacts and years of experience in Yellowstone we will take you to the best places at the right time to help you to concentrate on capturing the essence of winter in the world's first National Park.

From pre dawn to after the last twilight, we will hunt for images of the beauty of this land in the grip of winter. We will visit the steaming geysers and thermal areas of Norris Geyser Basin and the interior of Yellowstone. You will photograph Old Faithful, the Grand Canyon of the Yellowstone, and the winter wilderness of Hayden Valley. This will all be done from our warm, secure modern private snow coach where you can quickly escape the coldest extremes and warm and secure yourself and your equipment.
For the second part of the trip. We will be based in Gardiner, Montana, surrounded by beautiful snow capped mountains where the wildlife is right outside your door, and you are across the Yellowstone River from the park itself. (tip: great photos can be captured from the parking lot). On our journey from West Yellowstone to Gardiner, we will photograph and travel through the Madison River Valley, were you may have the opportunity on of the largest wintering herds of elk in the West. There are also good photography opportunities a large herd of Big Horn Sheep. Of course we will also photograph the scenic ranch lands of Paradise Valley, Montana on our way to Yellowstone. On this short trip through the northern winter range of the world's first national park, you will have a chance to photograph winter Big Horn sheep, Pronghorn Antelope, Elk, Bald Eagle, Whitetail and Mule Deer and the valleys ranch lands in their scenic splendor. An area that is often overlooked by other workshops but gives a unique view of the Yellowstone eco system.

When we are not in the snow coach, we will be photographing Lamar Valley, Mammoth Hot Springs, and the other areas of the prime Yellowstone wildlife winter range. Here you will be traveling in a full sized SUV or our AWD High Roof Sprinter Van. Lamar Valley is the wintering home of ice rimed Bison, Elk, Wolves, Moose, Fox, Coyotes, Bighorn Sheep, Mule Deer, Pronghorn Antelope, Trumpeter Swans, and Bald Eagles. Our quest will key on the master of all hunters, the charismatic wild wolf. Our hunting ground will be the wonderland of Yellowstone in winter with steaming thermal areas, frost covered wildlife, and pristine snow covered wildlands. If you have dreamed of photographing wild wolves, I feel this is your best chance. Bobcats, Foxes and Mountain Lions are here, and we work hard to have these predators in front of your lens also.
Jess has been living, photographing, guiding, and instructing in the Yellowstone eco-system for over 30 years. Jess has spent over a hundred days a year photographing Yellowstone and its wildlife. Thousands of his award winning Yellowstone photographs have appeared in publications such as National Wildlife, Sierra, Defenders of Wildlife, and Sports Afield. Jess's wild wolf images have appeared in prestigious publications such as covers on National Geographic, National Wildlife and Defenders of Wildlife, and many more wolf images have been used to promote the reintroduction of this critical species in publications such as Smithsonian and films including Ken Burns recent hit production " National Parks, Americas Best Idea". While most tour leaders come to Yellowstone for a few short weeks a year we are attuned to the local conditions and keep up to date on the wildlife activities by daily contact. In addition, we have a vast network of local friends who are constantly reporting to us on wildlife activities. This is your chance to learn from that vast base of experience.
$6295.Including Guiding, instruction, and snow coach, lodging, transportation to and from Bozeman, and one of the most unique small group photography experiences on the planet.
Single Supplement $550. $1500 non refundable deposit holds your place


For this trip, we recommend you arrive in Bozeman the Day before the start date of the trip. On the starting date, we will meet in Bozeman for a brief introduction, check your equipment, and get a feel of what instruction you may need during this beautiful trip to the Yellowstone ecosystem. You will be returned to the airport around noon on the final day of the trip for your return flight home.

Client video from Yellowstone winter 2021
Terms and Conditions
GROUP MINIMUM: Occasionally I am able to run a trip below our group minimum which is generally 3. In such instances, it may be necessary to apply a small group supplement. You would be contacted regarding such a situation but you would not be obligated to accept the new terms.RESERVATIONS: Your deposit is required to secure your place on any trip, with the balance due120 days prior to the departure date..Details of hotels, flight arrival recommendations, and other trip tips will be mailed when the tour is full. Deposits are non-refundable MEALS: Some meals and refreshments are included depending on the trip details, but not alcoholic beverages.ADMISSIONS: Access to public buildings and national parks etc. are not included in the land price.CANCELLATIONS: All cancellations must be confirmed in writing, and due to costs incurred by Jess Lee Photos in arranging a tour, deposits are non-refundable. Payment in full is required 120 days prior to departure. Cancellations after 120 days will receive a full refund ( except deposit) if your spot can be filled from a waiting list or if you can fill your spot.JessLeePhotos LLC strongly suggests that tour participants invest in trip cancellation insurance..CANCELED EXPEDITIONS: In the event of insufficient tour sign-ups, JessLeePhotos reserves the right to cancel any given trip. However, JessLeePhotos is not responsible for expenses incurred by its customers.LUGGAGE: JessLeePhotos request that tour participants limit their luggage to the equivalent of one suitcase, one flight bag, one camera bag, and tripod. We ask that group members bear in mind space and comfort in our vehicles. All personal luggage is the responsibility of the owner so please keep the weight to a limit you can handle and other restrictions can be met.SMOKERS: Smoking is not permitted at meals or on vans. It can be permitted at photo stops where local ordinances permit, photography, and photographers are not affected.RESPONSIBILITY: JessLeePhotos LLC and its agents act only as agents for the passenger in all matters relating to travel arrangements, and as such, do not assume responsibility for injury, accident, damage, loss, delay, or irregularity which may occur via defect of transportation or any other cause. JessLeePhotos reserves the right to substitute hotels, and other previously outlined arrangements as necessary, to either improve or equal the travel experience.JessLeePhotos reserves the right to pass on to tour members any additional and unplanned expenditures incurred during the tour, via events beyond JessLeePhotos' control.The right is reserved to accept or decline any person as a member of any tour. Payment of tour fees by trip participants constitutes their acceptance of all conditions contained herein including but not limited to injury, death, or other liability incurred during a trip.