Luxurious Samples of Wall Art Photos in rooms by Jess Lee Photography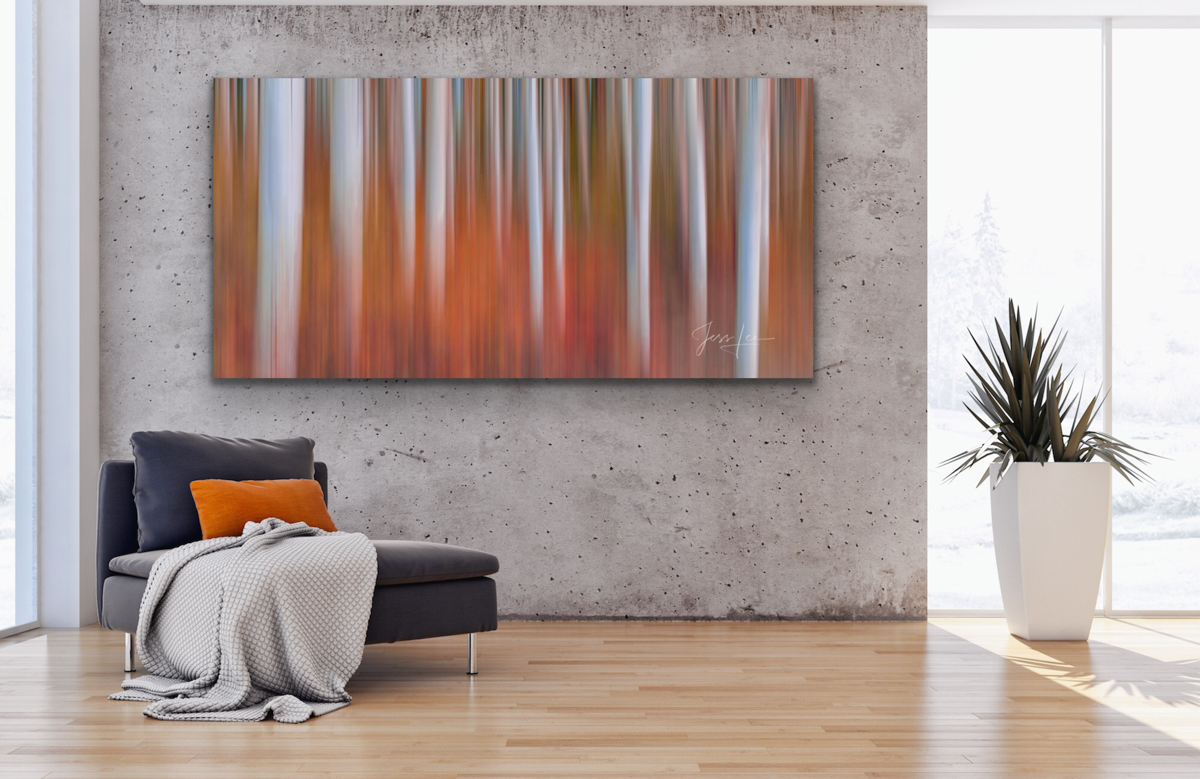 No matter if you are looking for photography prints for a complete home remodel, designing the interior of a new home, or refeshing your walls, the purchase of artwork for your home or office is never an easy decision. There are many things to consider and I would like to provide you with as much information as I can to help you through the process. I understand these decisions are highly personal and I am available to answer any questions you may have.
If you would like to see a mockup of your selection in your space check here
Thoughts When Choosing A Fine Art Print
Many people choose a fine art print because of a connection to a location or scene. Perhaps they lived nearby or had a very special experience there and they want something to remember. With our large selection of fine art prints from many locations, it is easily possible that there could be more than one to decide between.

Of course, possible a better reason is to purchase artwork simply because you feel it will be a striking addition to your home or office. Maybe it is a location you would like to go to someday or even just the colors you find attractive. Art is always subjective and if you like it, you like it.

The next decision is the style of print. I have been most impressed with the Lumachrome® HD Acrylic Print using TruLife® Acrylic because of the way the TruLife® Acrylic eliminates glare. Nothing is more frustrating than having a beautiful print on the wall that you can barely see because it is reflecting what is outside a nearby window. Please review our Prints page for more information on the styles of prints.
---
If you are unsure of how a print would look on your walls I would be happy to help by doing a mock up of your actual space with the photo you have selected from my galleries. Just drop me a note here and I will work with you on how the selection would look in your space.
---
Matching Colors In The Room
This decision is subjective and there is not a set answer. The world outside may have scenes with muted earth tones, like in the desert areas. There may be deep greens in the forests, blue skies or colorful trees and flowers. The world outside is a beautiful place. It is our opinion that any of our landscape photos would look great in any room in your home. There could be some rare cases where colors might conflict, but that is probably unlikely
What Size Should I buy?
That question has no perfect answer. There are many variables such as wall space, budget, and just how much you like a piece.
I prefer large prints to give real impact and with the technology I use very large prints go beyond the detail of what was possible only a few years ago but they may not be for everyone. Visit, Go Big at home for the rationals for supersized prints.

But the general rule is that bigger is always better. If you are going to use a frameless Lumachrome HD Acrylic or Metal Print, you would want a larger size than if you were having one my Fuji Crystal Achive Prints matted and framed.
An old "rule of thumb' is having the artwork be 2/3 to ¾ the width of the furniture. So, in the case of a sofa that is 96 inches wide, the artwork should be 63" to 72" wide.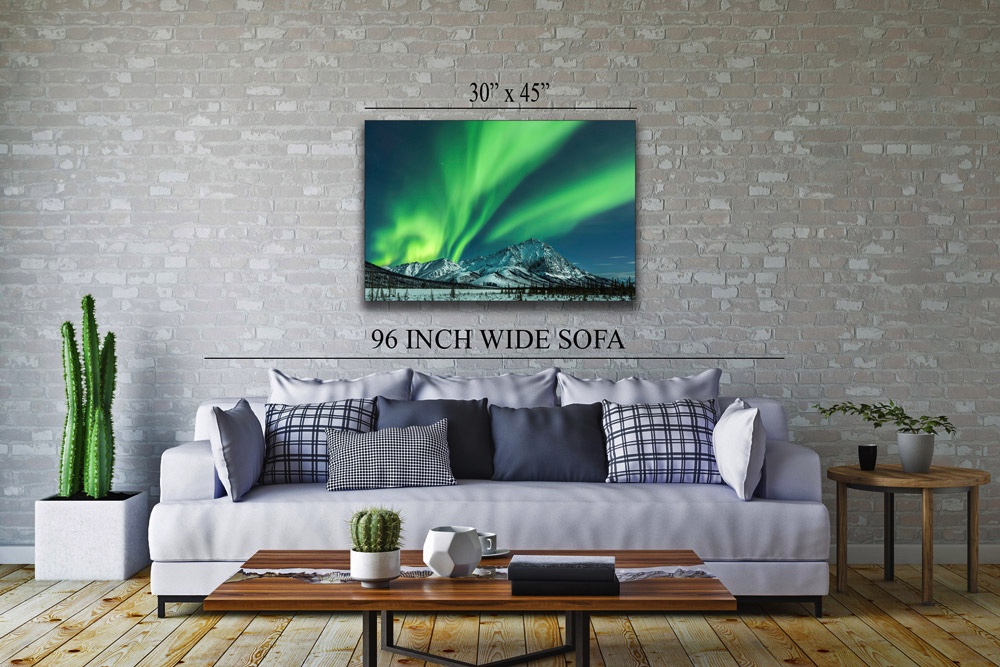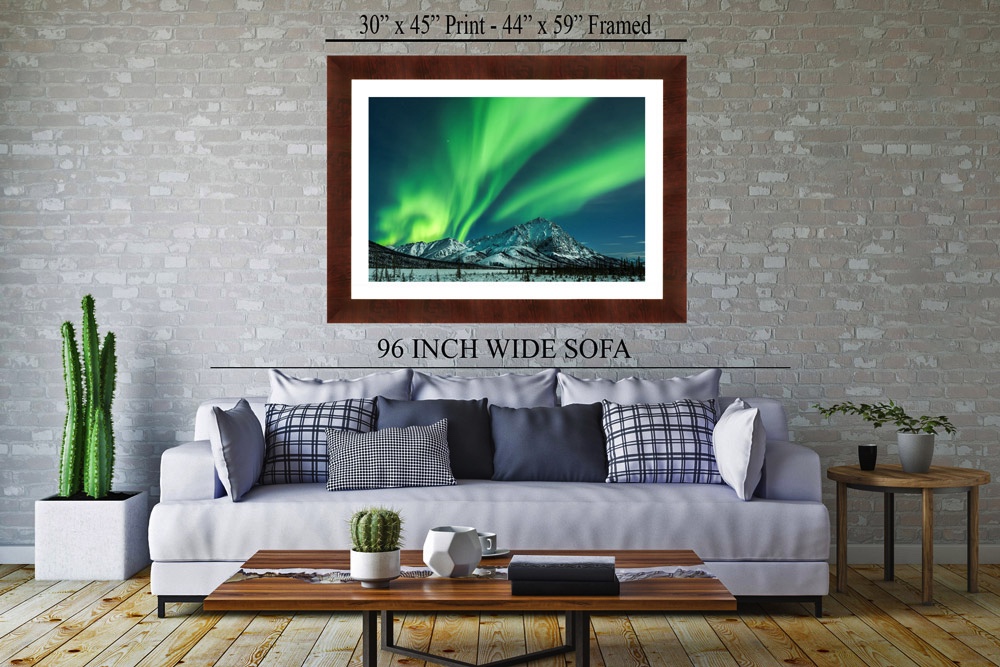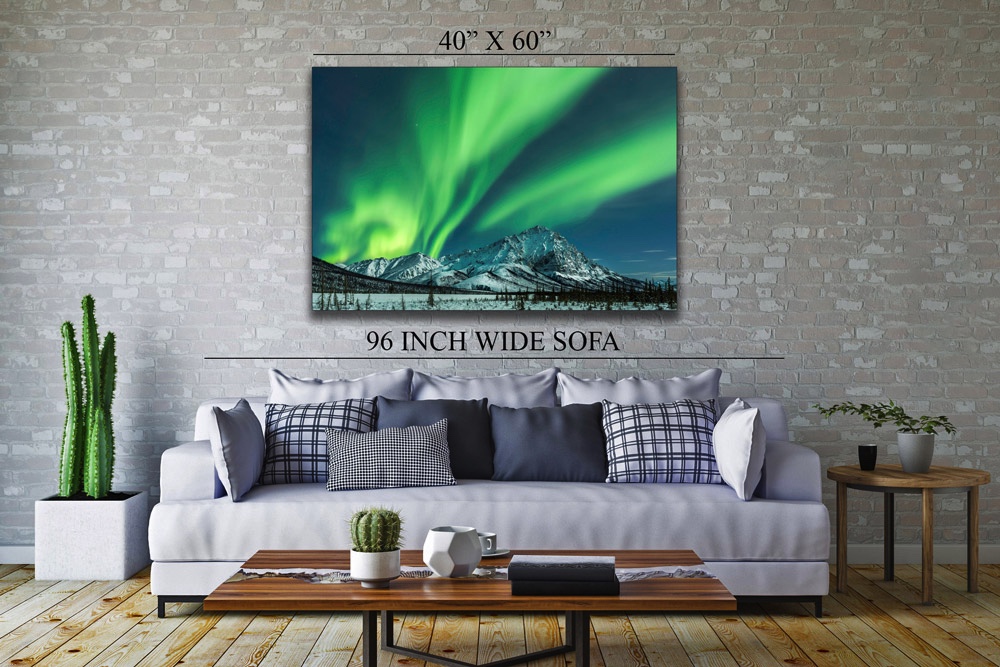 In a bedroom environment, this would mean artwork 43" to 48" wide over a 65" wide queen size headboard and artwork 53" to 60" wide over an 80" wide king size headboard. But there is nothing wrong with matching the size of the bed as in the Yellowstone Wolf print below.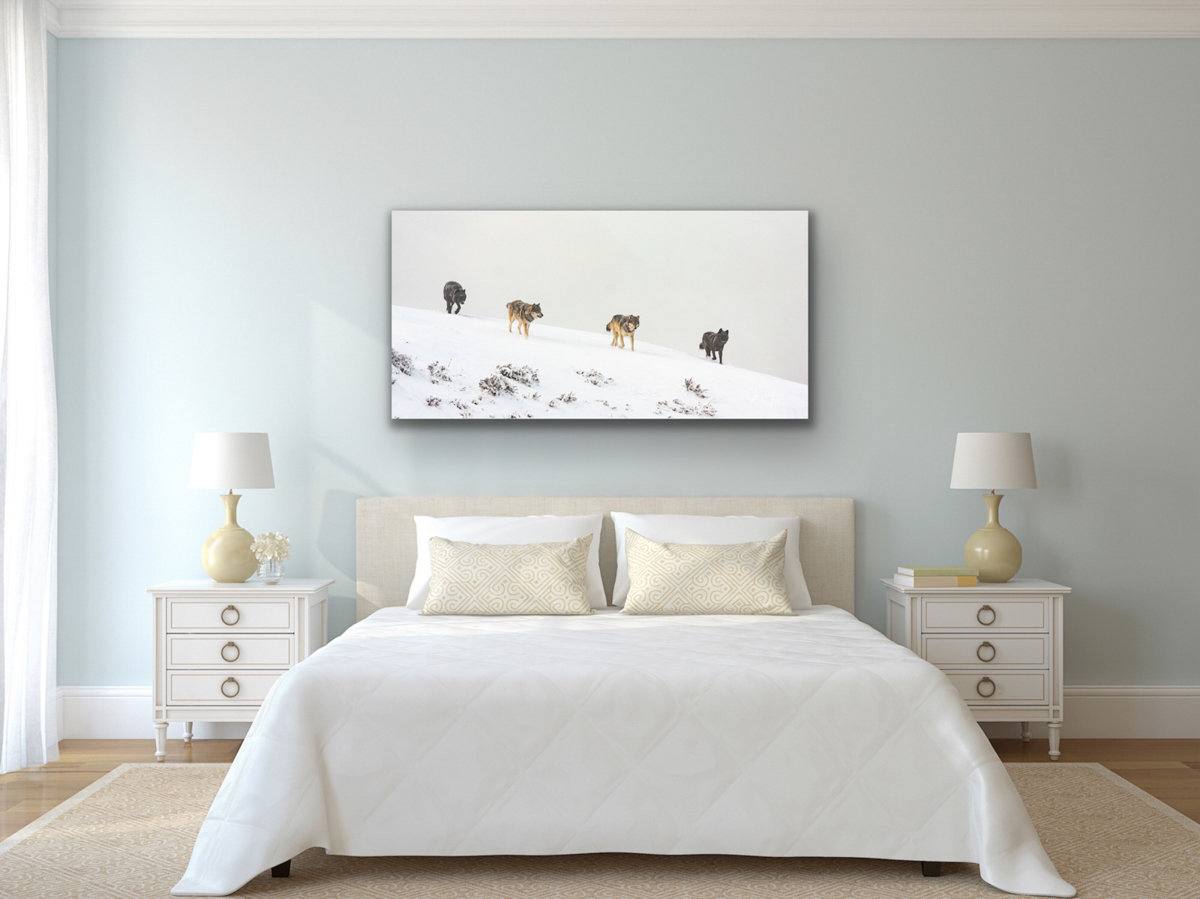 Thoughts About Lighting
We all want our Fine Art Prints to look their very best. The nature of Lumachrome® HD Acrylic Print using TruLife® Acrylic prints, Metal Prints and the Fuji Crystal Archive Prints is that they come alive with a certain brilliance when light is applied to them.
If you're like me, you may not have track lighting or recessed ceiling lights to provide the perfect lighting. Many of us have to rely on natural light coming in through the windows or other room lighting. This doesn't mean your prints cannot have impact, just not as much as if special lighting is applied.
The next best thing to special lighting is a well lit room from indirect sunlight. The TruLife® Acrylic does an amazing job of reducing what glare there is while the metallic nature of the printing surface uses the natural light to reflect the details of print. Direct sunlight is always a no-no, as it causes glare, reflections and can eventually reduce the vibrancy of the print.
If you do use some type of track or recessed ceiling lighting, the general rule is that it is at about a 30 degree angle from the artwork. The light fixtures should have and adjustable angle and be able to be dimmed. The best bulbs for lighting artwork are LED bulbs with a color temperature of 3000k to 4000k. The bulbs should be such that they provide even lighting over the entire print, not so wide that they light up the wall or so narrow that they do not light up the outside edges of the print.
Bulb Temperature Guide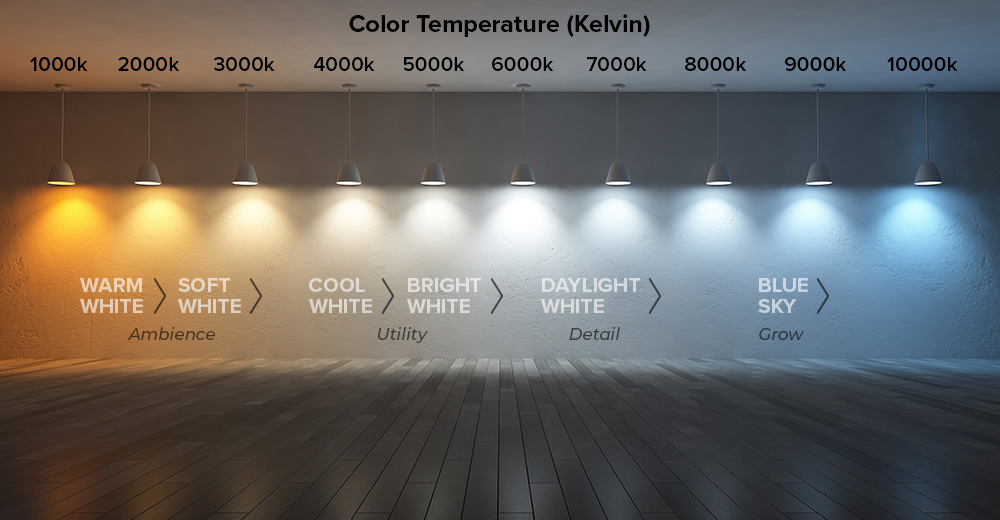 It would also be a good idea to obtain an opinion from a local lighting expert regarding your individual situation. Of course, you should use the services of a qualified electrician to install lighting.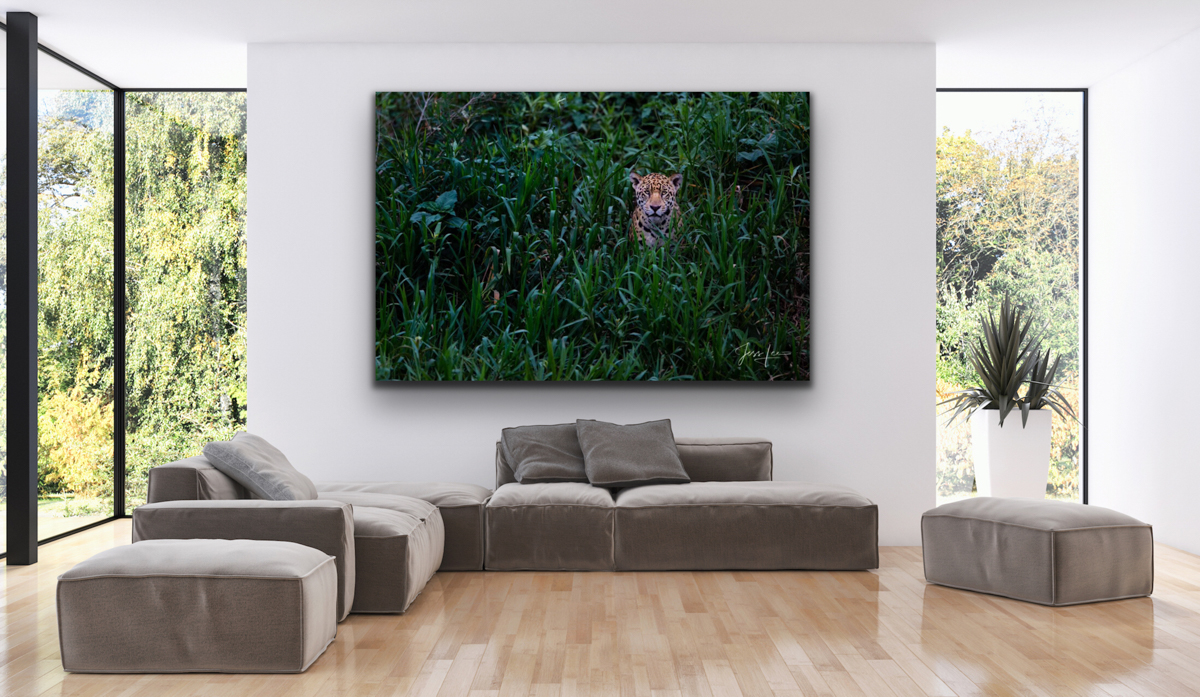 I'm Here To Help
I'm here to help any way I can with the purchase of a Fine Art Landscape, Fine Art Wildlife or Western Lifestyle print. If you have any questions regarding any of my prints, from size options to the location shot or anything else, just Contact Mewith your questions. If I'm not out in the middle of nowhere, I'll get right back to you.
I sincerely appreciate you're considering a purchase from me.
Thanks for Looking
Jess